Time is the most critical and significant factor in everyday life. It is being considered as the most precious coin in a person's life. In this busy world, time management is much perplexing. But, once, management is done; it gives everlasting satisfaction. And the satisfaction results in joy and peace.
Above all, everybody struggles for peace and prosperity. Once, we know the tricks and tactics of utilizing the time we become successful in every walk of life. And success is the everlasting happiness one ever needs.
In the work environment, many times issues arise regarding different stuff. The workplace must be bearing speaking power of the employees. To keep the friendly work environment all kind of issues must be resolved. The higher authorities must be concerned about all the happenings and issues faced by their people. Employee satisfaction plays a vital role in any organization or firm. The employee satisfaction results in company's profitability and good reputation.
Workings hours is one of the common issue faced by many employees in different kind of workplaces. This results in stress. And stress results in bad behavior. Such resulting behaviors affect the personality of a person. The personality negativity is always disastrous for the profession and family both.
The employees must raise voice if they are not satisfied with increased working hours. As per company rules and policies, one can file his complaint by highlighting the policies signed by him regarding limitation of working hours. In this way, he can justify his issue and request for the requirements.
Letter Sample -1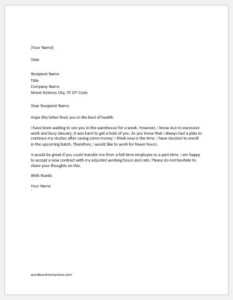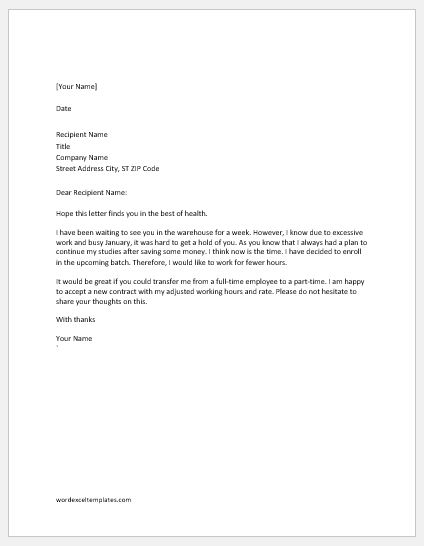 Dear Anthony,
Hope this letter finds you in the best of health.
I have been waiting to see you in the warehouse for a week. However, I know due to excessive work and busy August, it was hard to get a hold of you. As you know that I always had a plan to continue my studies after saving some money. I think now is the time. I have decided to enroll in the upcoming batch. Therefore, I would like to work for fewer hours.
It would be great if you could transfer me from a full-time employee to a part-time. I am happy to accept a new contract with my adjusted working hours and rate. Please do not hesitate to share your thoughts on this. Download
With thanks
Sample Letter -2
Request letter to reduce working hours due to a family emergency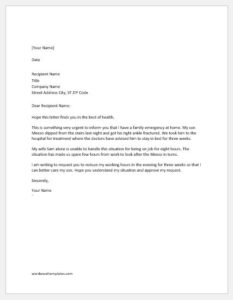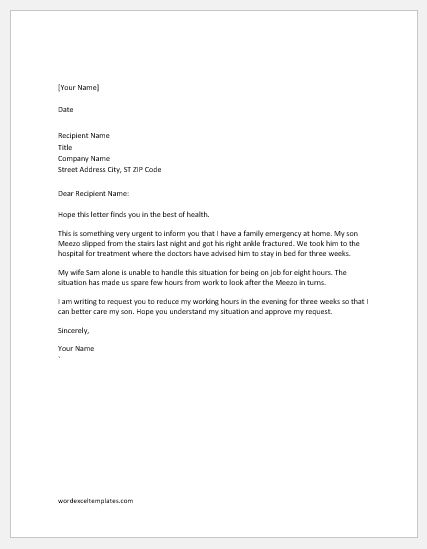 Hello Steve,
This is something very urgent to inform you that I have a family emergency at home. My son Meezo slipped from the stairs last night and got his right ankle fractured. We took him to the hospital for treatment where the doctors have advised him to stay in bed for three weeks.
My wife Sam alone is unable to handle this situation for being on job for eight hours. The situation has made us spare few hours from work to look after the Meezo in turns.
I am writing to request you to reduce my working hours in the evening for three weeks so that I can better care my son. Hope you understand my situation and approve my request. Download
Sincerely,
Sample letter -3
Request letter to reduce working hours due to sports activity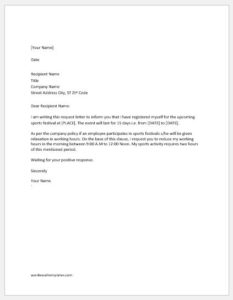 Hello Peter,
I am writing this request letter to inform you that I have registered myself for the upcoming sports festival at [PLACE]. The event will last for 15 days i.e. from [DATE] to [DATE].
As per the company policy if an employee participates in sports festivals s/he will be given relaxation in working hours. On the base of this clause, I request you to reduce my working hours in the morning between 9:00 A.M to 12:00 Noon. My sports activity requires two hours of this mentioned period. Sports schedule is attached to this letter.
Waiting for your positive response. Download
Sincerely,