Errors and accuracy are a part of life. As to err is human; is a very popular saying. Some mistakes happen coincidentally, some occur accidentally. They both can sometimes be corrected but sometimes mistakes cannot be corrected. Like the loss of life or any other natural disaster. Some mistakes people do willfully as they have strong annoying nature.
In the workplace, there are some obligations on the employee which are observed on behalf of their habits, nature, and personality. A person's nature and habits have a strong influence on his behavior toward the environment. Some people are habitual of carelessness. It results in many issues in the workplace.
In a professional life, there are a lot of bounds and limitations. An employee has to be much more careful in his behavior and attitude. One vital factor is present-mindedness. It has a strong role in the workplace which can keep one safe from repeating mistakes and overcoming the mistakes that have already happened.
Sometimes it happens that employees repeat their mistakes. But due to rules and policies, the higher authorities are supposed to give them warnings. Such warnings are according to the strategy of the firm or organization. Such warnings are also in accordance with the job contract signed by the respective employee.
The respective company is obliged to warn the employees of their repeated mistakes. It is also important to keep the work environment appropriate and to keep in view other employees to avoid mistakes.
Letter Sample -1
Employees are the most important resource for a company. But before companies give hands-on work to their employees, they train them well. If the employees do not perform as per the level, management issues them a warning letter to improve.
---
Dear Morris,
Hope you're having a great day at work.
We have been conducting the annual review. I was shocked to see your poor performance. We have been sending you on various training programs to improve your performance. I have been advising you in person to work on your weaknesses. It is disappointing to see you rerun your mistakes repeatedly.
However, this is the most we could have done for you. I would like to warn you for the last time. Please try to work on your mistakes and improve them. Please do not hesitate to discuss this with me.
With thanks.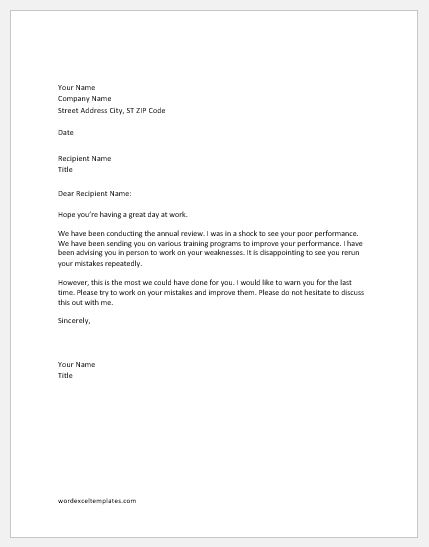 Letter Sample -2
Hello Kish,
Mr. Meezo was preparing the annual review report and it is sad to see a long list of warnings being made against you. Many warnings are issued to you for repeated mistakes.
On reviewing your annual character report, I must give you the last warning to improve your weaknesses. The company has shown a lenient attitude towards your behavior, conduct, and lack of work capabilities. However, any more violations of company policy, tardiness, or bad behavior with others will not be tolerated at all.
The final action can be suspension or termination from the job.
Sincerely,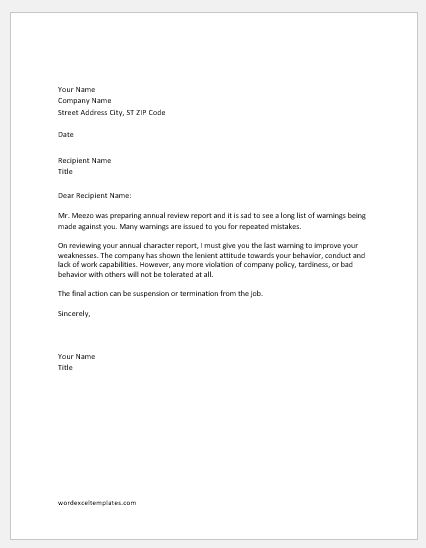 #3
This letter is to remind you of your repeated irrational behavior and not taking office work seriously. Yesterday, I was looking through your monthly record but I did not observe any obvious change in you. You have conducted the same mistakes again even after giving you many warnings. Time and again we arranged many sessions to make your performance better. Even though I guided you personally but the results are unsatisfactory.
Now this is the time to send you a warning note seeing non-consistency in your attitude. Kindly concentrate fully on your work and avoid doing mistakes. If the matter reaches the board of directors then you will not be given any chance. If you need my help, I am still available to guide you thoroughly.
#4
Dear Christopher, you have made me disenchanted as I have not witnessed any good change in your performance. You were given six warnings in the past two months but you did not take seriously even one of them. Enough time was given to you to improve yourself but the matter is out of hands now. You must be reprimanded, then you will start showing good results.
We adopted a leniency policy with you but in return got zero response. You will remain on probation period for two weeks. If we observe that you are repeating the mistakes, then you will be terminated permanently.
#5
I have been informed by your branch head of your dereliction of duties. He apprised me of your lack of interest in performing office tasks and making mistakes. it is difficult to understand that either you are finding the tasks difficult to apprehend or doing it intentionally. The company has suffered a lot due to your non-consistence behavior. if something is bothering you, you must discuss the matter with your supervisor. But neither had you informed anyone nor did you change yourself.
I sincerely advise you to cover up your lacking areas and not repeat the same mistake again. You need to avoid a frivolous attitude and show seriousness towards your job. If your performance does not come up to the company's standard then we will no longer require your services.
#6
This letter serves as a final warning on the basis of not following your direct manager's advice. He guided you many times in learning important concepts but you ended up in mishandling the project. We do not facilitate such behavior in the organization. We have hardly survived financial loss due to your negligence. You do not know the basic etiquette of how it means to be an employee. If you are confused about a point, then your supervisors are here to guide you.
I do not know what stopped you to seek their guidance. The company will not easily forgive you. We are giving you a week to make your tasks error-free. If I find any mistake in your work, you will face its reverberations. Please visit me in my office tomorrow along with an explanatory note. I hope to see a good change in your performance.