Errors and accuracy are a part of life. As to err is human; is a very popular saying. Some mistakes happen coincidentally, some occur accidentally. They both can sometimes be corrected but sometimes mistakes cannot be corrected. Like the loss of life or any other natural disasters. Some mistakes people do willfully as they have strong annoying nature.
In the workplace, there are some obligations on the employee which are observed on behalf of their habits, nature, and personality. A person's nature and habits have a strong influence on his behavior towards the environment. Some people are habitual of carelessness. It results in many issues in the workplace.
In a professional life, there are a lot of bounds and limitations. An employee has to be much careful in his behavior and attitude. One vital factor is present-mindedness. It has a strong role in the workplace which can keep one safe from repeating mistakes and overcoming the mistakes that have already happened.
Sometimes it happens that employees repeat their mistakes. But due to rules and policies, the higher authorities are supposed to give them warnings. Such warnings are according to the strategy of the firm or organizations. Such warnings are also in accordance with the job contract signed by the respective employee.
The respective company is obliged to warn the employees of their repeated mistakes. It is also important to keep the work environment appropriate and to keep in view of other employees to avoid mistakes.
Letter Sample -1
Employees are the most important resource for a company. But before companies give hands-on work to their employees, they train them well. If the employees do not perform as per the level, management issues them a warning letter to improve.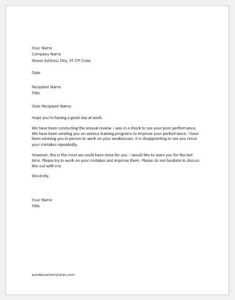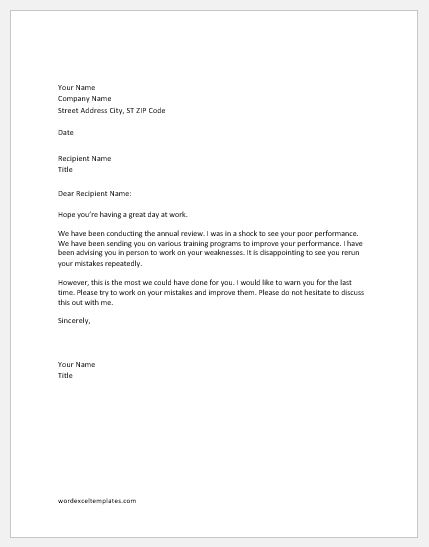 Dear Morris,
Hope you're having a great day at work.
We have been conducting the annual review. I was in a shock to see your poor performance. We have been sending you on various training programs to improve your performance. I have been advising you in person to work on your weaknesses. It is disappointing to see you rerun your mistakes repeatedly.
However, this is the most we could have done for you. I would like to warn you for the last time. Please try to work on your mistakes and improve them. Please do not hesitate to discuss this out with me.
With thanks.
Letter Sample -2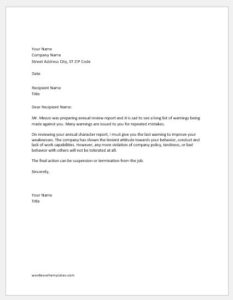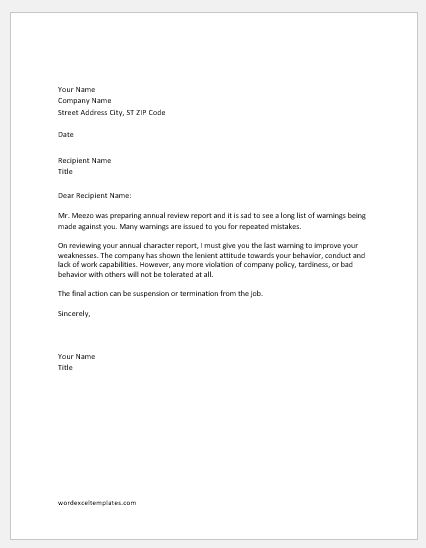 Hello Kish,
Mr. Meezo was preparing annual review report and it is sad to see a long list of warnings being made against you. Many warnings are issued to you for repeated mistakes.
On reviewing your annual character report, I must give you the last warning to improve your weaknesses. The company has shown the lenient attitude towards your behavior, conduct and lack of work capabilities. However, any more violation of company policy, tardiness, or bad behavior with others will not be tolerated at all.
The final action can be suspension or termination from the job.
Sincerely,