Subject: Request to change office hours for [X]
I hope you will be fine and enjoying the best of your health. I visited your home yesterday but your servant told me that you were out for some work. So, I decided to write a letter. I am writing this to request you to change my working hours.
You know that I have been working in this post office for the last ten years. I have been regular throughout my service. Nowadays, I am facing a serious problem.
My house is located 70 kilometers away from the bank. It takes me 2 hours to reach here. Since last month, due to a change in office timings, I get late almost daily due to heavy traffic on the roads at that time.
I am ashamed of my late coming because you have warned me so many times. Honestly speaking, it is not a fault of mine. I am unable to get rid of this hectic routine as long as the traffic issue prevails. Despite leaving my home one hour early than before, I am unable to reach the office on time. This humiliation is affecting my working capacity and quality as well.
To the best of my knowledge, our post office is functioning in two alternate shifts. I work the first shift. I personally think that if I am allowed to transfer to the second shift, it will be quite easy for me to reach the office on time. In this way, my work quality will be far better than now. Kindly adjust me to the second shift keeping in view my genuine problem.
I am waiting for a positive reply from your side.
Yours affectionately,
Anderson.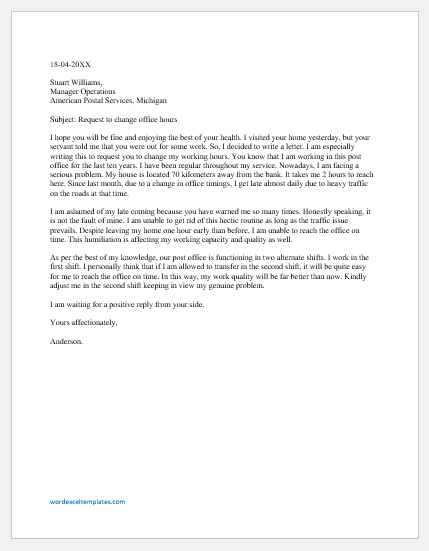 File: Word (.docx) 2007+ and iPad
Sample -2
18-04-20XX
Philip Bishop,
Manager Operations
Williams Garments Factory, Michigan

Subject: Request letter to change office hours
Dear Sir,
I hope you will be enjoying good health these days. I am writing this letter to you to get some relaxation regarding work hours. My name is Jack Lee, working as a quality checker in your factory.
I am an immigrant from China, and I am living here with my family in Michigan state. The distance from my home to the factory was 15 kilometers hardly which was manageable. Due to some unavoidable circumstances, I had to leave my home and therefore I shifted to another home which is approximately 40 kilometers away from the factory. The road which leads towards the factory is always full due to heavy traffic. Owing to this reason, I usually get late nowadays.  
You know how important it is for a quality checker to reach on time in order to enhance the quality of the product and perform his duties effectively. But as far as I am concerned, it becomes difficult for me to reach the factory on time. I have also got warning letters from the manager which is really a shameful thing for me. The problem is getting worse as the days are passing because I have not been able to solve this time management issue.
I hereby forward my request to change my working hours. Please change my timing from 4 pm – 12 am instead of 8:00 am – 4:00 pm. I assure you this will not affect my work at all as I feel more comfortable during the proposed period of time.
I hope you will understand my problem and give me a positive answer regarding my request.
Regards,
Jack Lee.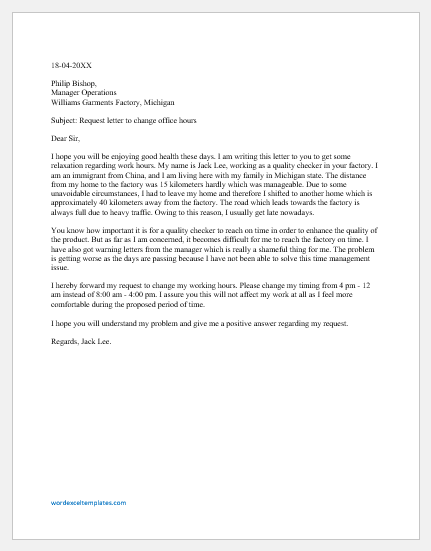 File: Word (.docx) 2007+ and iPad
See also: