Re Immigration Reference Letter for [Name of the Friend]
Dear Judge, I feel honored to write a letter of reference for [Name of the Friend] who has been residing in the United States since 20[XX] as a student. Now, he wants to reside here for the rest of his life and seek a bright future here. He wants to build a bright career and work for himself, his family, and this country. I am [name], a 34-year-old man, a permanent resident of this country. I am a US citizen and work in [name of the organization] as a [designation].
I have known Mr. [name] since 20[xx]. We have studied together in [name of the degree] in [name of the university]. We were sharing three courses that were compulsory for field studies. He has always been a very helpful, generous, and industrious person. From studies to participating in the university's co-curricular activities, [name] has always stood out from the rest of the students based on his
unmatched performance. Most of the teachers know him because of his good grades and sheer interest in research.
Currently, he is working in the department of food management at a private firm. The firm is a small start-up based in [location]. He is earning $[x] from his work and aspires to pursue further studies in the same country. I believe in his capabilities and favor him to be naturalized as a US immigrant.
Dear judge, I am thankful to you for reviewing my words and considering the reference. I am available to provide any more information if required. I can be contacted at [phone number] or [email address]. Thanks.
Please find the copies of my documents attached.
Truly,
[Name]
[Designation]
[Address]
[Signature]
[Date]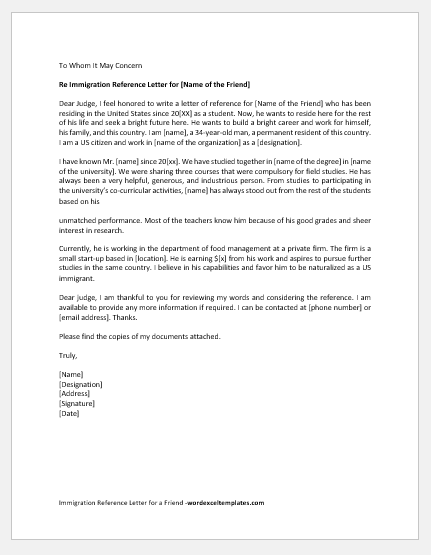 Sample -2
Re. Immigration Reference Letter
Dear Sir,
I am [name] from the [precise address]. I am [name the profession] by profession and have been working in [name of the organization]. I am delighted to write a reference letter for the immigration of Ms. [Name] who is a very dear friend of mine. We are family friends and have known each other for seven years.
I met [name] in the [name of the university] for the first time. We both were doing [name of the degree] and became friends when I found her very kind and cooperative with other people around. Once I saw her helping a dog who happened to have his leg stranded in a dumpster's wheel. [Name] helped him release his leg and called Wildlife and Animal Protection and Welfare to treat the wounded leg.
I found her not only kind to her surroundings but also to herself. She invests a lot in herself too in the shape of taking care of her health, assuring good hygiene, and building knowledge.
She is very dedicated to living in the US for the long term and getting permanent residency. She aspires to serve the country in the best possible way. She perceives the United States as a diverse country respecting differences without discrimination.
Moreover, she believes in the law and order of the country and does not find it scary at all to live in a foreign state. I believe her to be a great person and prove herself to be a great asset to live in the country and add to the betterment of our economy.
I request you consider my reference enough for the approval of her immigration. If you have any questions, please do not hesitate to contact me by calling at [phone number] or writing to me at [email address]. I am grateful to you for reviewing this application reference. Thank you.
With Best Regards,
[name]
[Address]
[Signature & Date]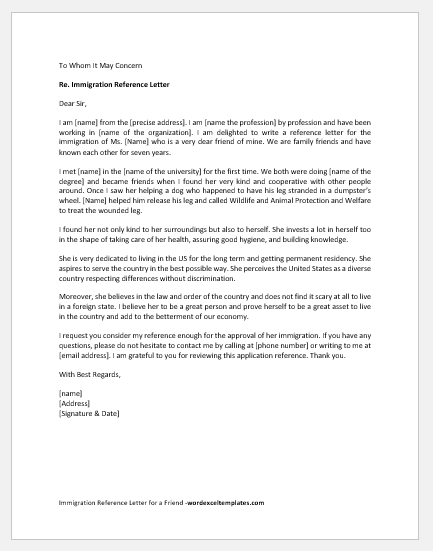 See also: