1-
I hope you will be fine. I received your notice of increasing rent last week. My purpose in writing this letter is to forward a formal request not to increase the rent for this year due to crises. I was not expecting ever to write on these terms to you as for the last five years we are having strong landlord-tenant relations. In this time span not for a while, I gave you any complaint regarding the payment of rent.
As you know that due to the global COVID-19 pandemic all types of businesses have faced a great downfall. It not only has taken thousands of lives of the people but also has caused damage to the worldwide economy and has left people helpless.
Due to the strict implementation of lockdown, your shop in which I am running my own business is closed for the last four months. Despite all this, I did not give any complaint to you regarding rent payment and paid you each month on time. As this was the start of New Year so it was your basic right to increase the rent as per the agreement signed by me and there is no denying the fact in it.
Now we all are compelled to sit in our homes for an unknown time and in these four months, I did not earn even a single penny.
While you are demanding a rent increase so it's my request to you to freeze the rent for this year and it would be a great favor to me from your side. Once my business comes to its original standing I myself will increase the rent.
I hope that you will understand me well as this is a time to stand for each other and to help others in this difficult time. Hoping to get a positive reply from your side! Thank you.
Regards,
John Jackson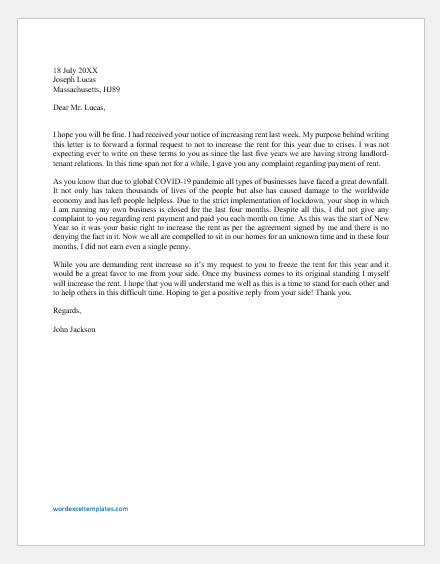 File: Word (.docx) 2007+ and iPad
Size 28 Kb
Download
---
2-
18 July 20XX
Samuel David
Manchester, UI 34
Dear Mr. David,
In response to your letter that I got last week you had asked me in it to increase the rent by up to 15 percent at the start of the coming month. Basically, the purpose of my penning this letter to you is not to increase the rent for a certain period. In fact, I was thinking to write you a letter about freezing the rent for three months and upon this, I received your letter about increasing the rental amount.
There is no denying the fact that I was earning good profit from my business, but the prevailing situation of COVID-19 has brought havoc for many people like me and all kinds of businesses have faced great downfall. Because of closing shops due to the lockdown, the customers are in favor of online shopping instead of going outside for this purpose.
It has also caused damage to my business and I am facing a great downfall, turmoil, and financial crisis nowadays. Due to all this, it is very difficult for me to abide by your plan of increasing the rent. It is becoming very difficult for me to make both ends meet and I know this thing very well that you have the right of increasing the rent.
Keeping in view the above-mentioned circumstances, I request you to freeze the rent for three months.  I had never ever thought to write this to you, and we were on good terms for the last four years. I hope that you will consider this request of mine and will give me a chance to say thanks to you for giving the favor. I will regard your decision and hope to get a positive response from you.
Regards,
Mathew Ryan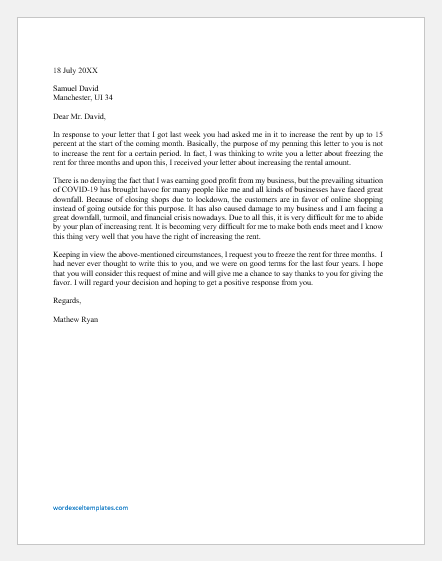 File: Word (.docx) 2007+ and iPad
Size 20 Kb
Download
---