Due to social obligations, we all may need to be off work at a certain time. The reason for this needs to be serious and solid. It may be due to death, being sick, having sick kids, etc. Whatever the reason, it is important to notify your boss about this in a professional manner.
What does a two day leave letter to boss?
A leave letter tends to be a formal letter that notifies the boss concerning your absenteeism from work. It is a good way to tell the boss that you need time off from work.
If you want to have a good reputation and want your boss to see you are professional, then inform them properly when you need to be off work. A leave letter shows professionalism in one's methods. The leave can be kept in your employment file and consulted whenever needed.
You may want to inform the boss about the leave before writing the letter. The below points can be considered when writing this letter:
Time period: It is necessary to state the time period for how long you wish to get the leave. In this case, it is for two days. Give the dates clearly without any mistakes over here. The content needs to be formal and specific. Your boss must see that you are handling this professionally.
Reason: Have a proper reason for the leave. Find out if your reason is valid before applying for the time off. If you or a family member is sick you can have documents attached that confirm this.
Format: The letter must have a formal format including who it is from, date, who it is to. The subject will be given precisely. Address the reader politely. Do not include information that is not needed. Immediately say why you are writing the letter and for how many days you want the leave. End by thanking the boss and with "Yours sincerely." Give your name also.
The words you use must convince your boss to give you the two days leave.
Sample Letter -1
18 July 20XX

Mr. Jonathan Tyler
Manager
XYZ Bank
456 Main St.
Manchester, AB 1235
Dear Mr. Tyler,

The purpose of writing this letter is to inform you about my absence that will consist of two days from 18-06-20XX to 19-06-20XX and I will be back to work on 20-06-20XX. I am Ralph Sidney, working on the post of XYZ in your organization for the last five years. Being an employee here I did not take any uninformed leave and remained punctual and obedient. I also remained available even in non-working hours and whenever you needed me. As I had already discussed this thing with you that there is my sister's wedding in the mid of this month and I have to make all the arrangements. So, this letter is a reminder about my absence from the office.
In my absence, I am handing over my project to Miss Elizabeth who will assist you in handling any difficulty. I am so much pleased regarding the facilities that you are providing here to your employees and keeping in view this thing if you need my assistance you can contact me via email. Hopefully, I will try my best to answer it. I would be much thankful to you if you approve my request for leave as I am in dire need of it. I hope to get a positive reply from your side.
Regards,
Ralph Sidney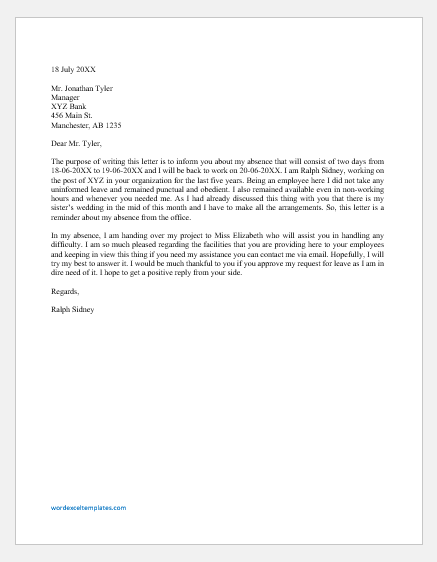 File: Word (.docx) 2007+ and iPad
Size 19 Kb
Download
---
Sample Letter -2
18 July 20XX
Mr. Lark Jayden
Manager
XYZ Bank
001 Main St.
Manchester, AB 4567
Dear Mr. Jayden,
I hope you are doing well. I am working in your company at the post of Assistant Manager for the last three years. The purpose of writing this letter is to inform you that I want two days' leave from 21-07-20XX to 22-07-20XX. I am terribly in need of it as I have to visit my hometown because due to some ongoing stress I am not giving full attention to my work and it is becoming difficult for me to devote myself to the work and I am not focusing on what's going around me. This is a required tour to give relaxation to my mind about burdensome work otherwise I cannot relax my mind and focus on work with full attention.
Keeping in view the above-mentioned circumstances, I want you to understand my situation and give me some relaxation by allowing leave for two days.
In my absence, I am handing over my project to Mr. Darcy who has enough understanding of my work and is efficient enough to tackle the task without any hindrance and the work that would be done by him is the final part of the project. Therefore, I am telling you on time so you may not have any difficulty in my absence. As you have a record of establishing good terms with your employees and understand their situation well, so I am hopeful that you will approve my request for leave and will give a kind consideration to this. In case, if you have any queries regarding this you can contact me through email, I will remain available there. I am waiting to get a positive reply from your side. Thank you.
Regards,
William Jaycob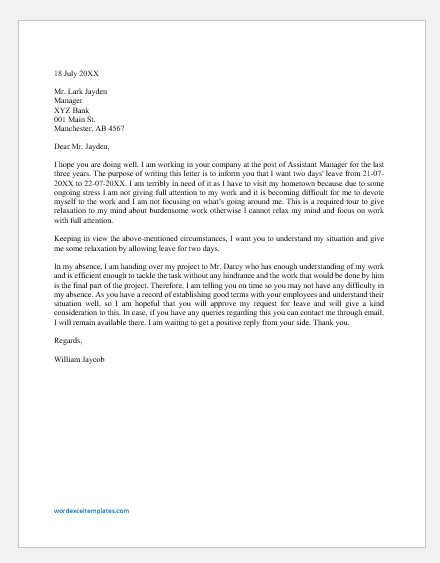 File: Word (.docx) 2007+ and iPad
Size 21 Kb
Download
---