When you want to get a housing loan, you are required to provide your salary certificate that will let the lender know about your capability to pay off the loan. Writing the request letter to your employer for the issuance of salary certificate in order to get housing loan is a complex process. However, if you know the exact format and structure of the letter, you can write a professional looking request letter.
How to write the letter?
You are required to choose any of the business formats that are being used these days to draft a request letter. These formats differ in the structure of the letter.
You should try to get the information about the format which is being followed by your company. If your company is following block format, it is advisable to format the letter according to that format.
Start the letter with the address of the recipient and your name. Also, mention the date on which you are writing this letter. After mentioning the address, start writing the body of the letter. Tell your boss that with which company you are going to make business relation on the basis of loan housing. Then politely request for the salary certificate along with the reason to request it.
Sample letter: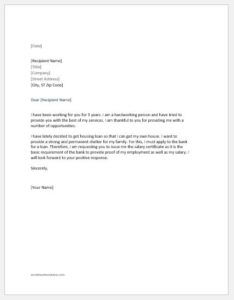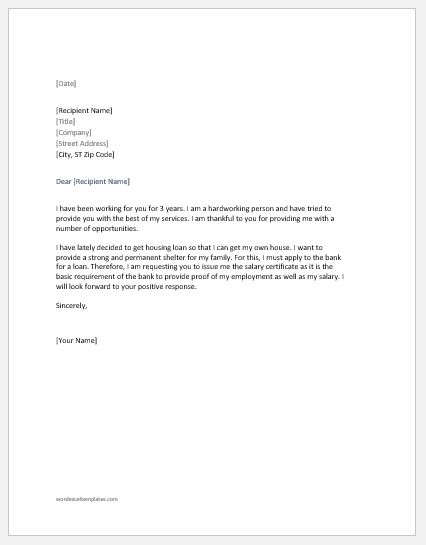 Dear Sir,
I have been working for you for 3 years. I am a hardworking person and have tried to provide you with the best of my services. I am thankful to you for providing me with a number of opportunities.
I have lately decided to get housing loan so that I can get my own house. I want to provide a strong and permanent shelter for my family. For this, I must apply to the bank for a loan. Therefore, I am requesting you to issue me the salary certificate as it is the basic requirement of the bank to provide proof of my employment as well as my salary. I will look forward to your positive response.
Yours sincerely,
---
Sample Letter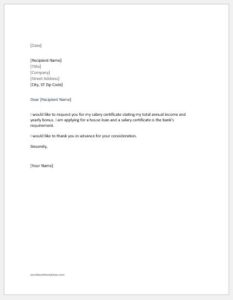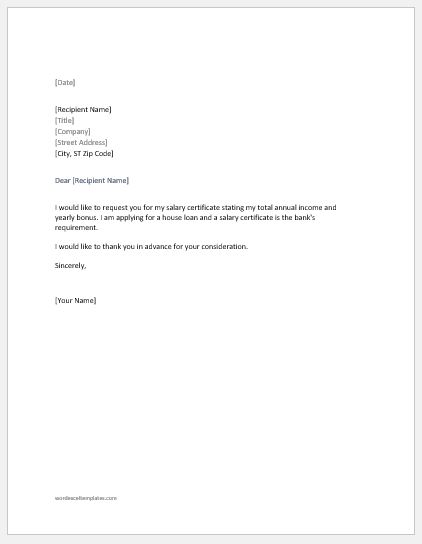 I would like to request you for my salary certificate stating my total annual income and yearly bonus. I am applying for a house loan and a salary certificate is the bank's requirement.
I would like to thank you in advance for your consideration.