A salary certificate is a formal document which is issued by the employer on the request of an employee. This document becomes an evidence of employee's income and job. The employee is needed for many purposes. One of the common reasons for which a person needs salary certificate is visa application.
A person is required to submit salary certificate to get a visa for another country. This certificate enables the applicant to prove that he is currently doing the job in the country in which he is residing, and he will come back for resuming his job.
This certificate also ensures that the applicant has a solid source of income and he is capable enough to bear his expenses if he moves out to some other country for any purpose.
The company issues the salary certificate for the visa application to its employees when the employees want to go to another country for a tour or for any other purpose. The employee writes the request letter to the company and asks for the issuance of salary certificate for visa application.
What should be included in salary certificate?
There is no specific format to be followed when it comes to writing a salary certificate. This certificate contains the information about the employee such as his job title, his designation, experience details, the total salary s/he is receiving, bonuses details and a lot more.
It should also be stated in the certificate that you are issuing the certificate to be used for visa application. This certificate is stamped and signed by the director of the company.
The certificate should include the title of the certificate at the top. Mention the date on which the employee was appointed. If there is a contract between you and your employee, mention the duration of the contract.
Mention the number of days the employee works for the company each week. Make sure that the certificate written by you is capable enough to give details about the net salary, gross salary along with deductions and allowances. The name and address of the organization should be mentioned in the certificate at the top.
Letter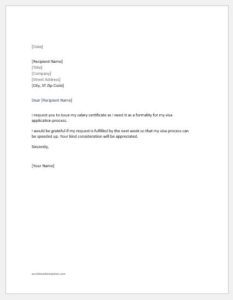 Dear Sir,
I request you to issue my salary certificate as I need it as a formality for my visa application process.
I would be grateful if my request is fulfilled by the next week so that my visa process can be speeded up. Your kind consideration will be appreciated.
Sincerely,