It is the right of an employee to get salary certificate and experience letter whenever he needs. The salary certificate is needed by an employee since it serves the purpose of a proof that the employee is earning specific amount each month and s/he has a capability to cope with the certain type of expenses.
The experience certificate is usually granted at the time of employment termination. It is also issued to an employee when his employment contract ends.
It is the responsibility of every organization to provide the experience and salary certificate to its employees upon request.
The salary certificate and experience letter are usually required for those employees that want to apply for a loan. They have to verify that they are earning a specific amount and they are capable enough to pay off the debt in a given amount of time. Both of these documents specify the name, experience, total salary, and skills of the employee.
You can write the request letter to your boss for obtaining salary certificate. In order to write a request letter, it is advised that you stay polite and courteous since you are addressing your boss.
Mention your objective behind requesting for salary and experience certificate. Here is a sample request letter was written to an employer in order to request for salary and experience certificate. You can use this letter to get information about the format and structure.
Sample letter: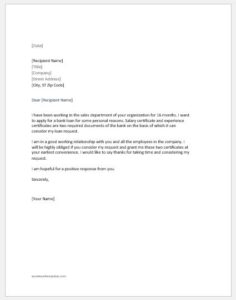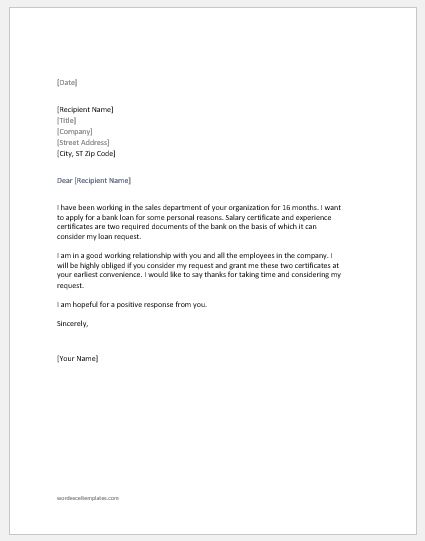 Dear Sir,
I have been working in the sales department of your organization for 16 months. I want to apply for a bank loan for some personal reasons. Salary certificate and experience certificates are two required documents of the bank on the basis of which it can consider my loan request.
I am in a good working relationship with you and all the employees in the company. I will be highly obliged if you consider my request and grant me these two certificates at your earliest convenience. I would like to say thanks for taking time and considering my request.
I am hopeful for a positive response from you.
Yours sincerely,
---
Sample Letter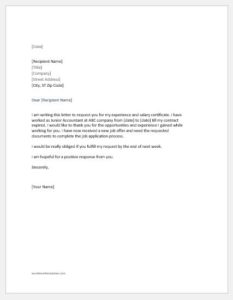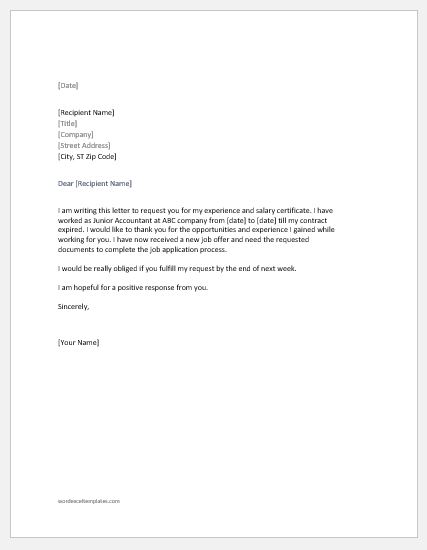 I am writing this letter to request you for my experience and salary certificate. I have worked as Junior Accountant at ABC company from [date] to [date] till my contract expired. I would like to thank you for the opportunities and experience I gained while working for you. I have now received a new job offer and need the requested documents to complete the job application process.
I would be really obliged if you fulfill my request by the end of next week.