Banks often ask you to furnish your credit card request with salary certificate signed by your employer or any appropriate person who is responsible to perform such tasks. The banks do so generally in order to get the information the recent salary you are receiving.
Sometimes, the bank also specifies the time period of salary. When you write the request letter to your boss, you will have to specify that time period for which you want him to issue a salary certificate.
There are different stack holders in an organization. In order to successfully receive the requested documents, you are required to address the right person in the request letter.  Decide it carefully that you have to address in this letter.
In some cases, you should contact your supervisor as well as HR manager to let them about your need for salary certificate. This will be beneficial for you since it will bring both of them on the same page and they will decide it mutually whether or not they should issue the salary certificate.
Write the letter with complete information about yourself so that the reader can identify you. Make a request for the salary certificate straight. Also, tell the reason for requesting.
Express your appreciation if your boss gets back to you with the salary certificate upon your request.
Here is a sample request letter to help you draft your own.
Letter -1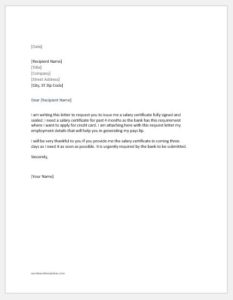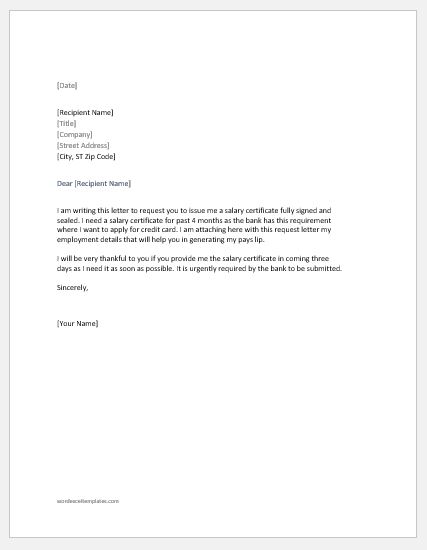 I am writing this letter to request you to issue me a salary certificate fully signed and sealed. I need a salary certificate for past 4 months as the bank has this requirement where I want to apply for credit card. I am attaching here with this request letter my employment details that will help you in generating my payslip
I will be very thankful to you if you provide me the salary certificate in coming three days as I need it as soon as possible. It is urgently required by the bank to be submitted.
Yours sincerely,
---
Letter -2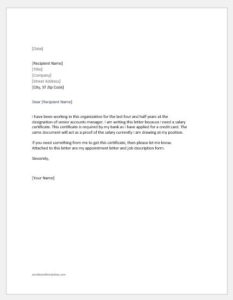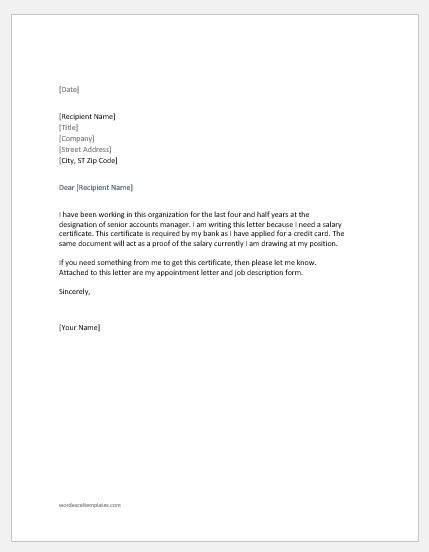 I have been working in this organization for the last four and half years at the designation of senior accounts manager. I am writing this letter because I need a salary certificate. This certificate is required by my bank as I have applied for a credit card. The same document will act as a proof of the salary currently I am drawing at my position.
If you need something from me to get this certificate, then please let me know. Attached to this letter are my appointment letter and job description form.
Sincerely,