The request letter for an income certificate is a document that is written by an employee as a request to the employer for issuing him an income certificate, that can indicate his employment and income status. Employees either seek an income certificate or a salary certificate. The only difference between the two arises, if the employee is getting money or income apart from his salary, e.g. commissions. Otherwise, the names can be used interchangeably.
The income certificate is, usually, a very concise piece of paper, which only mentions the basic details. It needs to be a formal, professional, valid and authentic document that can be submitted to the organization seeking it. It is important to ensure that the information stated on an income certificate is accurate and correct. Else, dire legal consequences might have to be faced by the employee or the employer.
Employees may have different reasons for requesting an income certificate from their employer, such as:
Opening of new bank accounts,
Bank loans or mortgages,
Renting or purchasing of property,
Immigration applications,
Children's admissions, etc.
The income certificate is a document which specifies that the individual is employed in a particular organization for a certain time period, and is earning a certain amount of money every month or year. This information indicates the creditworthiness and payback ability of the employee to the relevant party. If the party gets satisfied, the transaction between it and the employee can get smooth.
There are only slight variations in the income certificates issued by different organizations. The general format includes the following details:
Date of issuance.
Details of the employee.
Details of the employer.
Request for an income certificate.
Purpose of request.
Indicate the date to which it is required.
Inform about the details to be included in the income certificate.
State the date of submission.
Show gratitude and gratefulness.
Ask if any more information is required.
Salutation and signature.
After receiving, the employee can submit the original or attested photocopy of the income certificate to the relevant organization and complete the transactional processes.
Sample Request Letter for Income Certificate
Date
Name
Address
Dear Ms. Sarah,
I am writing this letter to request you for the issuance of my income certificate.
I am applying for a home mortgage through ABC bank. The basic document requirements include the income certificate from the employer, as it can ensure the bank about my creditworthiness, and that I have a constant stream of income and can pay for the mortgage.
I will be grateful to you if you will provide me with the income certificate till 12th September 2020, having the details of my designation, employment period, and salary and income details. I have to submit the documents to the bank till 14th September 2020.
I highly appreciate and thank you for sparing your precious time. Let me know if you need any information.
Regards,
Jimmy Watson.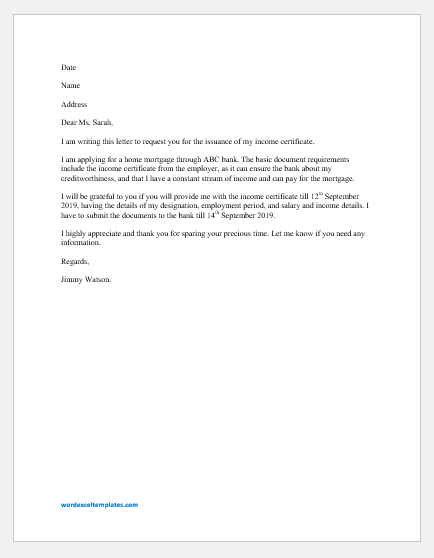 File: Word (.docx) 2007+ and iPad Size 31 Kb |
Download
---