People commonly write request letters to various vendors and suppliers when they want to buy a specific product from them but do not know the price. In this letter, they request the vendor or the supplier to provide them with the quotation of the item they are interested in.
If you have a tight budget and you don't know whether you can afford to buy an item from a particular supplier or not, you can write a request letter in order to know the price instead of sitting back and keep guessing the price.
Who writes it?
Any person who is interested in buying a particular product can ask for its quotation. It does not matter whether you want to purchase an item in bulk or a single item. A quotation will always let you know how much it will cost you to purchase a product, how much discount you can expect from the seller, and what mode of payment will be acceptable.
How to write? 
Come straight to the point:
When you write this letter, remember that you are communicating with someone who is a vendor or a supplier. So, ask him straight about your purpose for writing.
Describe the product:
It is your job to make it easy for the vendor to know which product you are referring to. So, give features of the product you are interested in.
End the letter with the request:
At the end of the letter, make a humble request to provide you with the quotation.
Sample letter 1:
Subject: Request for a price quotation
Respected sir (mention the name of the supplier),
My name is Mr. ABC. I am the manager in __________ (mention the name of the company). My company deals with high-quality electronics. Through this letter, I would like to make a request to you to please write us back with the price quotation for an electric toy car. I would like to purchase this product in bulk from you. Please send me the price quotation with the discount if it applies to it.
Since this is the first time, we are corresponding with each other, I would like to know more about your company. Could you please share the price quotation of the mentioned item at your earliest convenience?
I would greatly appreciate it if you sent this quotation to me by the end of this month. If you want to know anything about this request or my business, please feel free to contact us. I would feel honored to assist you. Thank you so much in advance for your cooperation.
Regards.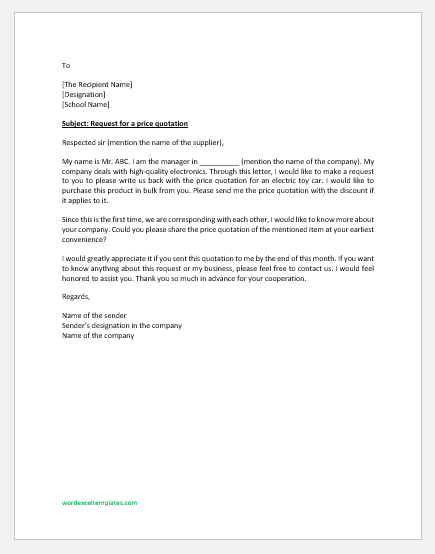 Format: Word 2003+ Size: 34 KB
Sample letter 2:
Subject: Request for a price quotation
Respected sir (mention the name of the supplier),
I am ___________(mention your name) head of the sales department of _________(mention the name of the company). I am writing this letter because I would like to know about the price quotation for the electric fan, I want to purchase from you. I need this product in bulk in any color.
You are being requested to please share the price quotation with us along with different features of the products that I may not be aware of. I have heard a lot about your company and therefore, I have decided to purchase this product from you.
Please let me know how much it will cost me if I purchase an electric fan from your company in bulk. Also, please mention how much discount you will offer to me if I purchase items at wholesale rates from you.
I would appreciate it if you provided us with the quotation at your earliest convenience as our company is currently running out of stock and I want to fill the stock as soon as possible. However, this decision is based on a price quotation from your side. Thank you so much for your time. I look forward to working with you in the future.
Regards.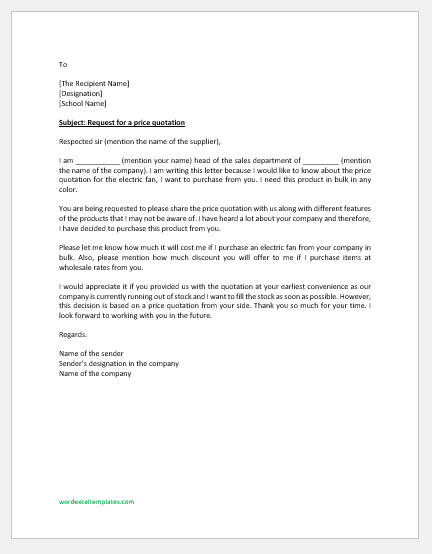 Format: Word 2003+ Size: 34 KB