The letter for the advertisement proposal is for all those people and companies who are about to start an advertising project. When you write this proposal, you let the reader know that you have given very careful consideration to the proposal and due to this, you are a right fit for the completion of this project.
If you are someone who works in the marketing department of an organization and you know that you have the talent to provide advertising services to your client, you must write the advertisement proposal.
The following are the key points to be included in the advertisement offer:
Timeline of a project:
The reader always wants to know how long it will take to complete a project. You are not going to win the trust if you only mention the duration. However, if you mention the entire timeline to show when you are going to submit deliverables, you will sound more trustworthy and truthful.
Budgeting details:
Budget is a major matter of concern for most people. So, you cannot ignore this important detail. Mention how much you will charge and how much discount you offer and under what conditions.
Share your past project:
If you have any experience with similar projects, you are more likely to win over your prospective clients. So, mention your past projects and give a brief overview of how you worked for them and what were your achievements.
Two sample advertisement offer letters are given below:
Sample letter 1:
Subject: Advertisement proposal for [XYZ]
Dear Mr. ABC,
I am writing this letter on behalf of my advertising agency (mention the name) that has been providing its services for the last 5 years. I would like to take this opportunity to offer the services of my company as your partner for marketing purposes. Our company is aimed at helping new businesses establish and grow.
Our company specializes in digital marketing since this type of marketing is most popular these days. We have a professional team of professional marketers who are well-versed in various techniques of digital marketing.
In this age and technology, it is not easy to stand out because of the fierce competition. However, we help our clients reach their popularity goals with the help of some unique strategies that help our clients get gratifying results.
We have attached some of our past project details and the results that we achieved due to our digital marketing expertise. In addition, the terms, and conditions of working with us have also been mentioned in those attachments. If there is anything you think has not been specified in the letter, you can always contact us to know more about it. We look forward to your kind response.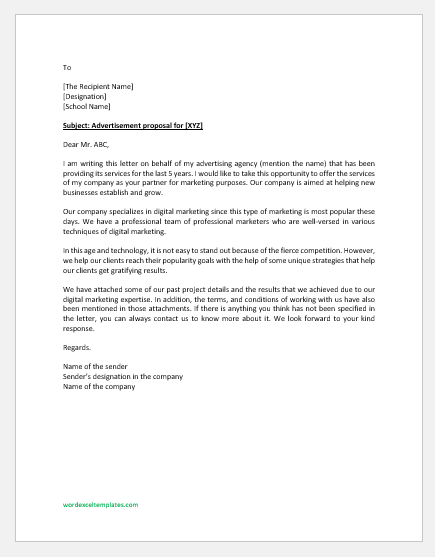 Format: Word 2003+ Size -53 KB
Sample letter 2:
Subject: Advertisement services proposal for [ABC]
Dear Mr. ABC,
First, please accept our heartiest congratulations on starting a new business. We are so happy to see your company operating in the industry. Since we have been in this industry for many years now, we know the type of competition you must be stressing over. Considering this, we believe that a good marketing strategy is what plays a big role in making a business successful. Therefore, we are writing this proposal to you to provide you with our best advertising services.
Your company always needs marketing to thrive in the industry. Our professional marketers work day and night for our clients to make their business grab the attention of the customers. We have attached the terms and conditions and budgeting details with this letter. Furthermore, a thorough snapshot of our previous work has also been enclosed to help you understand our advertising agency well.
To learn more about our company, you can visit our official website (mention the web address) or you can also organize a meeting with us to have a face-to-face conversation.
Thank you so much.
Yours truly.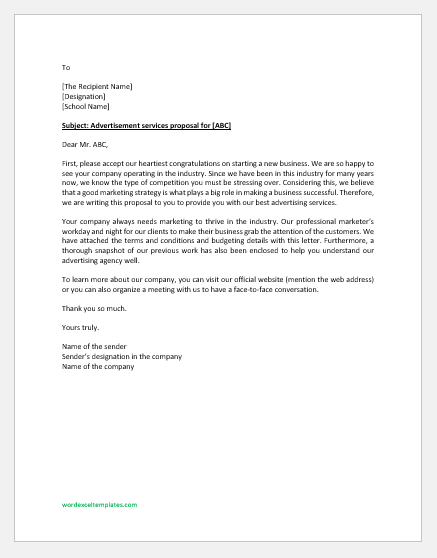 Format: Word 2003+ Size -53 KB