Teamwork enhances the output while dividing the tasks. Every work environment has many people working together. A good environment can be maintained with good ethics and moral values. The juniors should respect seniors and seniors must be kind to develop good professional behavior.
Some people are short-tempered and others may not be in a good mood to communicate while on the desk. Some may have personal issues to stay lost or others may have grudges or professional jealousy with colleagues while at work. Misbehaving with others is never a good thing and is not appreciated in any environment of work.
In a situation when a manager/CEO finds an employee misbehaving or showing a bad attitude at work a reprimand letter can be issued. A reprimand letter for a bad attitude at work given here is a sample letter given to cope with such a situation. The managers/ CEOs can utilize this pre-written letter to save time.
Sample Letter
#1
I always regard you as being a hardworking and supportive employee. But I have got disappointed after observing your bad attitude at the workplace. I have received many complaints against you detailing your way of treating other people badly. You are seen using derogatory words and disparaging your colleagues. You cannot justify your actions as this is prohibited in the company. I want you to visit me tomorrow along with an explanation letter. You will let me know how it all started and what circumstances incited you to such offensive behavior. You can email my secretary for a meeting time.
#2
I was very much satisfied with your sales performance and I wanted to upgrade you for your magnificent skills. I became disheartened when I received complaints about your bad behavior in the office. This is not the first time that I have received a complaint. I have been reported many times but intentionally I was giving you a chance for improvement. It was very sad for me that you downgrade your coworkers. I cannot pass a final verdict without listening to you. Therefore, you will meet me in person tomorrow. If you are proven guilty then it would be the last chance for you to change yourself.
#3
This is a warning message to you based on your unofficial behavior at the workplace. Being an employee, you need to treat all your coworkers equally. You do not have any right to put a finger on others' mouths. ABC Organization values its employees but it does not mean that we will let you do anything bad. Your actions compelled us to send you a warning note. You have been spoiling the office's atmosphere by spreading toxicity with your actions. If you want to continue your job, then you need to remain stick to the company's policies. this would be good for you as well as for the company. If I found any such complaint next time, then I will take strict action against you. I hope you will start improving yourself.
#4
This letter serves as a reprimand to you on account of your bad actions that pushed us to write this warning. There are a number of complaints issued against you by your colleagues. Your branch manager gave you a gentle reminder of the risk it will bring to your job. You ignored his warning and continued putting others down.
Mr. Steward, I wanted to terminate you immediately but seeing your previous record, I am giving you a last warning. You have one week to improve yourself as you will not be given another chance. There are certain terms and conditions for the employees that breach the company's policies. This is the final warning given to you. We want our employees to be on good terms with each other in order to maintain a peaceful atmosphere. I want to see a good change in you.
#5
Subject: REPROVAL ON MISCONDUCT
Mr./Ms. [NAME HERE], we are quite distressed about your monthly report of misconduct towards your colleagues and supervisors. We investigated the matter and approved your inadequate behaviors through our CCTV cameras and eyewitnesses of more than five staff members including the Para staff of the company, workers, and officials.
In the last month of [MONTH], we witnessed your annoyance with the workers at the cafeteria between [00:00] am, on [DD/MM/YYYY]. You were seen shouting inappropriately in a harsh manner insulting a cafe worker for providing the tea late.
Secondly, you threw papers at your supervisor to show your irascible behavior and indignation, on another occasion, you assaulted your coworker as he arrived asking you something when you were quite busy at work. The behavior you are showing is extremely unprofessional & abusive. You were a nice and worthy person to work with and you showed good character always whether it's an official workplace or outside.
Kindly, reassure us that you will not show such an attitude again and you need to review the employee's conduct code to create a harmonious and easy environment at work. Otherwise, the company will be forced to take strict action against you which can even lead to termination.
Preview and Details of Template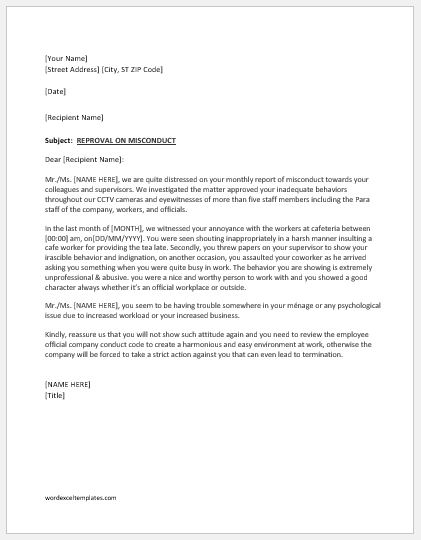 File: Word (.doc) 2003+ and iPad 
Size 34 Kb