A teamwork enhances the output while dividing the tasks. Every work environment has many people working together. A good environment can be maintained with good ethics and moral values. The juniors should respect seniors and seniors must be kind to develop a good professional behavior.
Some people are short tempered and others may not be in a good mood to communicate while on the desk. Some may have personal issues to stay lost or others may have grudges or professional jealousy with colleagues while at work. Misbehaving with others is never a good thing and is not appreciated in any environment of work.
In a situation when a manager/CEO find an employee misbehaving or showing bad attitude at work a reprimand letter can be issued. Reprimand letter for bad attitude at work given here is a sample letter given to cope with such a situation. The managers/ CEOs can utilize this pre-written letter to save the time.
Sample Letter
Subject: REPROVAL ON MISCONDUCT
Mr./Ms. [NAME HERE], we are quite distressed on your monthly report of misconduct towards your colleagues and supervisors. We investigated the matter approved your inadequate behaviors throughout our CCTV cameras and eyewitnesses of more than five staff members including the Para staff of the company, workers, and officials.
In the last month of [MONTH], we witnessed your annoyance with the workers at cafeteria between [00:00] am, on[DD/MM/YYYY]. You were seen shouting inappropriately in a harsh manner insulting a cafe worker for providing the tea late. Secondly, you threw papers on your supervisor to show your irascible behavior and indignation, on another occasion, you assaulted your coworker as he arrived asking you something when you were quite busy in work. The behavior you are showing is extremely unprofessional & abusive. you were a nice and worthy person to work with and you showed a good character always whether it's an official workplace or outside.
Mr./Ms. [NAME HERE], you seem to be having trouble somewhere in your ménage or any psychological issue due to increased workload or your increased business.
Kindly, reassure us that you will not show such attitude again and you need to review the employee official company conduct code to create a harmonious and easy environment at work, otherwise the company will be forced to take a strict action against you that can even lead to termination.
Preview and Details of Template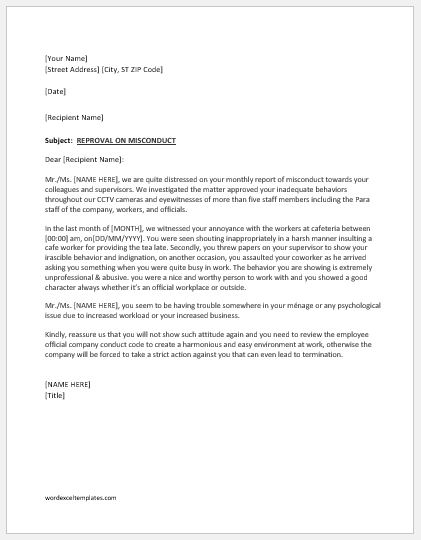 Letter Template
File: Word (.doc) 2003+ and iPad 
Size 34 Kb | Download
[Personal Use Only]