Negligence in work is never appreciated. Professional environments expect untiring efforts from employees. Businesses run on commitments and in fulfilling those commitments the employees are the important figure. These are the employees who work tirelessly to complete the projects on time and perform the duties honestly.
If an employee shows negligence in work s/he is never tolerated by the management. Negligence in work does not only affect one's own work performance but also delays the projects to be completed by the team. Organizations usually monitor the performance of employees on a daily, weekly, monthly, and yearly basis.
Written warning or reprimand letters are issued in severe circumstances. The following letter is written as a guide that can be used by a manager or CEO for an employee who shows negligence in work. The same letter can be used in the following cases
Reprimand letter for negligence in work
Warning letter of inadequate performance
Warning letter for declining performance in work
Warning letter for performance improvement
Letter of concern for poor performance
Sample -1
You are being issued a warning letter for your consistent and unexplained negligence in work for the past two weeks. You are not paying any attention to your work and are not obeying any orders from your supervisors. You have been issued several verbal warnings but there was no improvement at your end.
Your manager has reported that you have been coming late to work every day without prior notice. Also, you hand over incomplete projects and do not bother with the submission of completion reports thereafter. The work you have submitted recently was subpar and not up to the standards of our company.
Please note that the management can be accommodating towards a candidate for only a certain limit. You have pushed our limits to the edge, and we won't tolerate this deliberate negligence at work and an unprofessional attitude anymore.
This is the last warning we are going to issue you, if the performance does not change at your end, we will terminate your contract with immediate effect. We are asking you to make changes in your work ethic and professional attitude so we can continue working together in an amicable manner.
We hope that you will pay heed to this warning and make amends.
Regards,
Office management.
2-
I am writing to inform you that you are being issued a warning letter for negligence at work. You were assigned the duty of daycare last week and given a list of responsibilities. Those included looking after the children for 7 hours a day and taking care of their dietary needs.
Yesterday, the mother of one of the children in our day-care, Emmet Ben, has reached out to us with a complaint regarding negligence in taking care of her child. She claims that due to your carelessness, the child accidentally ate a peanut to which he is allergic and developed a severe allergy on his skin the next day. He is on heavy medication which has caused the mother a lot of distress.
You were provided information regarding the child's allergies however you did not pay attention to it and showed gross negligence at work. This has resulted in the child getting sick. We must warn you that this shall not be tolerated at our company as it has hurt the reputation of the company as a reliable day-care.
People trust our company which is why they decide to leave their children in our care. We hope that this warning letter will serve as a learning lesson for you, and you will pay attention at work next time. We have the responsibility of these young children and therefore we cannot afford to put their health at risk by being negligent and careless at work.
Please visit the HR office at 9 am sharp tomorrow to discuss this matter in detail and to apologize to the child's other in person. We hope to see improved behavior at your end.
Regards,
Golden Day Care Management.
Sample -3
Subject: ADMONITION ON INADEQUATE PERFORMANCE
Dear Mr./Ms. [NAME HERE],
We are quite dispirited by your negligence towards your responsibilities to the company. Mr./Ms. [NAME HERE], you were a very conscientious, dignified, and organized employee of all, but we were unable to surmise that a very delinquent etiquette was shown to you.
We received this information from your supervisor and manager. Mr./Ms. [NAME HERE], are you experiencing any complications at ménage or in vigor any other issue that is disrupting your proficiency towards work? we are told that you are arriving late at the office and often request a short leave or even get absent without notification. You are working impetuously and the number of absences we are facing from your side is completely inadvertent.
With due respect Mr./Ms. [NAME HERE], you need to share your predicaments if any or you need to be competent enough to indemnify the loss supervened to the company due to negligent behavior of yours. Please regain the confidence company had in you and be circumspect as you were before.
SEE ALSO: Reprimand letter to employee for negligence in work
Preview and Details of Template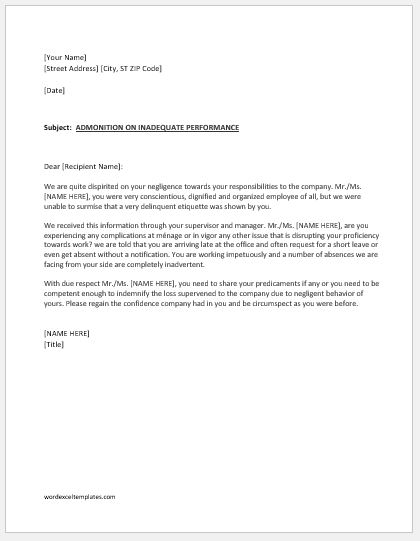 Letter Template
File: Word (.doc) 2003+ and iPad
Size 42 KB | Download
[Personal Use Only]