Every business flourishes with good management and with the efforts of skillful employees. The employees are hired to work for the company to produce something that benefits and enhance the business. Contracts & agreements are signed between the employee and the employer to keep the things streamlined while working together.
Negligence in work is a very bad attitude which can be shown by any employee. Employers are not going to tolerate this behavior at any cost. Some verbal and written communication is used to intimate the employee about his inclination towards negligence in work. A written warning or reprimand letter is given to the employees in severe cases.
A reprimand letter for negligence in work is given here as a sample. A CEO/Manager can use this letter to cope with the situation.
Sample Letter
Subject: REPROACHING ON NEGLIGENCE IN WORK
I hope this letter reaches you with a strong censure from the company on your irresponsibility towards work. we are quite disconsolate on receiving the information of you presenting negligence in work. Concerning about your substandard official writings, lack of color sense in designing, pretermitting the important clauses of official letters and inefficient conduct.
Mr./Ms. [NAME HERE], looking at your previous performance history, you were being a very diligent and responsible employee but since last month your performance shows lack of interest and management. Always forgetting your mandatory tasks, arriving late at the office, leaving early or demanding an early leave and sometimes a day-off appeal are issues impuissant for us to authorize. We had been scrutinizing you since last fifteen days but your convention is least rotating. You need to reexamine your conduct unless company will be coerced to hold a sterner action against you!
Mr./Ms. [NAME HERE], we advise you to review your issues and resolve them as soon as possible so that any complication in the family or your practical life could not affect your efficiency towards work. The company has provided their employees with vigilant supervision so that any predicament could be elucidated.
We hope you will not let the credence company had in you spend. Otherwise, as per your knowledge of company rules and regulations, a further complaint can lead suspension or termination. Keep it up with your previous good work, the company assures of every assistance you need to resolve your issues.
Preview and Details of Template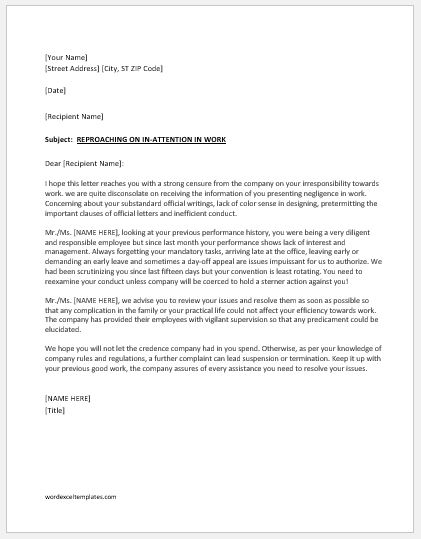 Letter Template
File: Word (.doc) 2003+ and iPad 
Size 42 Kb | Download
[Personal Use Only]