A pharmacist is a person whose job is to distribute drugs to people. He has deep insight into various medicines and formulas and therefore, is adept at effectively handling different medicines.
Just like professionals, pharmacists also need to prove that they have needed skills and they deserve to be selected to be a part of a pharmacy.
What is a recommendation letter for the pharmacist?
The recommendation letter written for a pharmacist is an endorsement letter that is helpful for him to get a promotion or a new job.
Who writes the reference for a pharmacy expert?
Usually, current or former employers of pharmacy experts are approached for writing endorsement letters. In some cases, colleagues and those who have been connected with the pharmacist for a long time can also be approached. However, people such as blood relations or friends are generally not considered.
When to write a letter of reference?
It is very common for employers to receive requests from their former employees to write them a reference letter. Whether an employer will write an endorsement letter or not completely depends on his relationship with the pharmacist. Therefore, people are always recommended to quit their job on a good note.
Things to remember while writing to endorse a pharmacist:
A pharmacist needs a perfectly written recommendation because most of the time, he has to compete with people with similar skills and qualifications. In that situation, a winning reference letter can work and make him outperform others. Therefore, if you are interested in helping your former employee, remember the following details.
Make sure you know the pharmacist well:
The recommendation is not merely a letter that gives some information about someone. It is a professional business letter on which, the credibility of a person depends. So, it is important to remember that not every individual deserves to be recommended.
If you have been requested by one of your former workers to write an advocacy letter for them, you should take your time and determine what kind of person he or she is. Consult the file of that person to know the history and background and then decide whether you should write. If yes, what you should write?
Find the format of the letter:
After you have decided to write the advocacy letter, make sure that you know the format and put the details in the right places. The recipient of the letter sometimes judges you based on how you compose this letter. So, take help from various sources and try to gather information as to what details you need to add and how.
Mention the required details briefly:
Give the necessary details in every letter of reference communication and then proofread the letter at the end.
Sample letter:
Name of the pharmacist:
Address:
Dear (mention the recipient),
I would like to introduce Mr. ABC a former employer of mine who has worked as a senior pharmacist in my pharmacy for more than 5 years. Mr. ABC is an eminently hardworking and passionate person who has always tried to benefit others with his knowledge and deep insight.
He was a great asset to my team of pharmacists as he was always available to help other people struggling in their careers and also remained open to queries of the customers with his exceptional communication skills. I have always liked him for his great problem-solving skills and due to his good nature. Everyone looked up to him as a great and professional expert in drugs sale and distribution.
Mr. ABC has always been known as a communicator and due to this, he was always tasked to lead the team. Whenever there was an issue in the pharmacy, he would always deal with it and address it to the manager without my involvement. Customers were so happy with him because of his great communication skills.
Finally, Mr. ABC is the best candidate to my knowledge who can lead your pharmacy to the next level. I highly recommend him for the post of pharmacist in your company. If you want to know more about him, you can reach me at (mention the phone number).
Regards,
Name of the sender Signatures.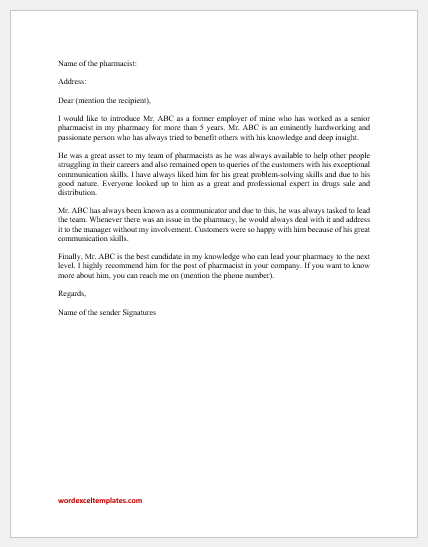 File: Word (.docx) 2007+ and iPad
Size 19 KB