What is no promotion letter?
Sometimes, employers have to go through tough times especially when they have to inform the employee who has been waiting for his promotion, that he cannot be promoted. There can be many reasons for not promoting the staff.
When to write a no promotion letter to staff for discipline violation?
Employers usually write their employees when they are required to be informed about their promotions. However, when the boss is angry and he wants to let everyone correct their behavior, he can send a reprimand letter to let the staff know about the tough decision he has taken.
Any organization needs to pay attention to the conduct of its employees. Different policies are made to ensure that employees act professionally and take their job seriously. Criticizing the staff and showing dissatisfaction with their work is another way to handle the situation of indiscipline on the employee's part.
How to write?
If you have decided to correct your staff's behavior with the help of disciplinary action, you can choose to undo the policy of staff promotion every year. Writing your decision is very easy if you know how to do it. Following are some tips to help you do it effectively:
Don't procrastinate:
Some employers keep delaying writing this letter because they keep preparing themselves for writing a letter that has an impact on the recipient. However, this is not a good thing to do. If you are about to give a decision that you know will not make anyone happy, you should not delay and play with people's feelings.
Talk about the reason for no advancement:
When employees learn about the fact that they will not be promoted this year, the first they might want to know is why??? So, don't forget to give the reason in this letter. You can clearly state in the letter that this letter should be served as a disciplinary action. However, you can also state your dissatisfaction with the performance of the staff members.
Don't mention the name of any:
Since you are writing to express your discontentment with the staff, there is no need to mention the name of one employee as this can lead to making the situation worse.
Don't overpromise:
In some cases, bosses want their staff to know that if they correct their behavior, the decision of not promoting people can be reconsidered. While doing this, sometimes they overpromise in an attempt to be empathetic towards people especially when they are wrong.
Don't use a harsh tone:
Although this letter is always written by the employer to express discontentment, the decision of no promotion as a disciplinary action for a violation of discipline is enough to serve the purpose. There is no need to use harsh tones or criticize employees so much. If you want to refer to a particular incident, stay focused on it.
Below is a sample letter that has been written to the staff members of the marketing department in a company who violated the discipline of the company and caused their boss to decide between not advancing anyone to a higher post.
Sample letter:
Date:
To: Staff of Marketing department
Subject: No promotion due to discipline violation
Respected staff members,
It has been brought to my notice that the marketing department of the company is having serious disciplinary issues. On 5th September, there was a clash between two employees due to which, lots of customers have to wait in the long queue can face inconvenience. Therefore, the company has decided to not promote any of the staff members from the marketing department this year. I am very disappointed due to this non-professional behavior and therefore, was compelled to take this tough decision.
As per the policy of the company, the staff cannot be advanced to a higher post if it does not meet the expectations of the company in terms of showing good conduct. The company can reconsider the decision if the staff shows any improvement in discipline.
If you have any questions regarding your promotion or disciplinary action, talk to my assistant Mr. ABC.
Regards,
Name of the employer
Signatures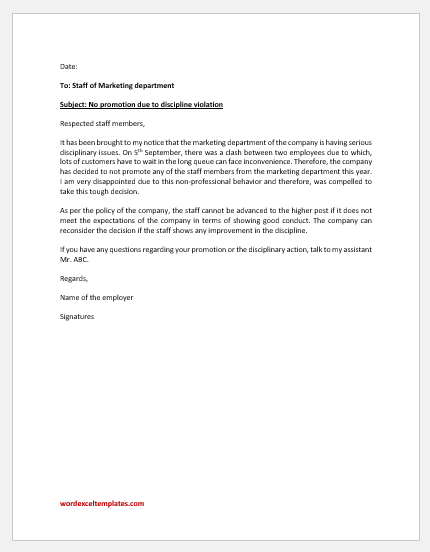 File: Word (.docx) 2007+ and iPad
Size 28 KB
Sample (Detailed)
Re. Letter of Withholding Promotion Due to Discipline Violation
Dear [Employees],
This letter serves as a notice and should be given due attention. I am writing to inform you of an important observation and the implications related to your employment. After careful consideration and evaluation of your submission, I would like to inform you that you cannot proceed with the process of promotion now due to the recent discipline violation.
[Company Name] values good conduct, assurance of adherence to company policies, and maintaining a positive workplace environment. Unfortunately, the employees, mentioned at the end of the letter, ignored these requirements, which is why you have been subject to disciplinary action. This breach and its subsequent consequences influenced the decision to withhold the decision on promotion.
It is important to understand that advancement in an organization depends on many variables, including job performance, adherence to organizational approaches and policies, demonstrated ability, professionalism, and integrity. Although your performance in certain duties has been satisfactory, the recent discipline violation has significantly affected our confidence in your ability to fulfill the responsibilities of the senior position.
We understand that individuals can make mistakes and always have potential and space for development and improvement. Despite the fact that you have not yet been selected for promotion, it is important to emphasize that this selection/de-selection is not permanent. Promotion in your field for advancement within the organization depends on your ability to demonstrate a strong commitment to the organizational approaches, demonstrate commendable leadership skills, and demonstrate development and improvement in your performance.
We strongly recommend that you consider the terms of the disciplinary action and try to learn experience. We expect you to do everything you can to improve the mentioned areas, demonstrate commitment to your professional turnaround and regain the trust of colleagues and managers.
We would like to invest in your real skills and focus on supporting your development within the organization. With this in mind, we encourage you to seek guidance and assistance from your manager or HR office to facilitate competent referral and improvement. This may include attending important preparation programs, seeking a mentor, or whatever is needed to update your skills and knowledge in your current job.
Please know that the consideration of your future ​​promotion depends on your consistently demonstrated commitment to maintaining the organization's policies, developing a positive workplace, and performing reliably at an unquestionable level.
I am confident that you will see this opportunity for personal and professional growth and use it as inspiration to succeed in your continued mission.
If you have any questions or need further clarification, please let me or visit the HR department. We are here to assist you in your professional career and help you succeed. Thank you for your understanding and we look forward to growing and developing with coordination and each other's support.
Sincerely.