What is no promotion letter?
Sometimes, employers have to go through tough times especially when they have to inform the employee who has been waiting for his promotion, that he cannot be promoted. There can be many reasons for not promoting the staff.
When to write a no promotion letter to staff for discipline violation?
Employers usually write their employees when they are required to be informed about their promotion. However, when the boss is angry and he wants to let everyone correct their behavior, he can send a reprimand letter to let the staff know about the tough decision he has taken.
Any organization needs to pay attention to the conduct of the employees. Different policies are made to ensure that employees act professionally and take their job seriously. Criticising the staff and showing dissatisfaction with their work is another way to handle the situation of indiscipline on the employee's part.
How to write?
If you have decided to correct your staff's behavior with the help of disciplinary action, you can choose to undo the policy of staff promotion every year. Writing your decision is very easy if you know how to do it. Following are some tips to help you do it effectively:
Don't procrastinate:
Some employers keep delaying writing this letter because they keep preparing themselves for writing a letter that has an impact on the recipient. However, this is not a good thing to do. If you are about to give a decision that you know will not make anyone happy, you should not delay and play with people's feelings.
Talk about the reason for no advancement:
When employees learn about the fact that they will not be promoted this year, the first they might want to know is why??? So, don't forget to give the reason in this letter. You can clearly state in the letter that this letter should be served as a disciplinary action. However, you can also state your dissatisfaction with the performance of the staff members.
Don't mention the name of any:
Since you are writing to express your discontentment with the staff, there is no need to mention the name of one employee as this can lead to making the situation worse.
Don't overpromise:
In some cases, bosses want their staff to know that if they correct their behavior, the decision of not promoting people can be reconsidered. While doing this, sometimes they overpromise in an attempt to be empathetic towards people especially when they are wrong.
Don't use a harsh tone:
Although this letter is always written by the employer to express discontentment, the decision of no promotion as a disciplinary action on a violation of discipline is enough to serve the purpose. There is no need to use harsh tones or criticize employees so much. If you want to refer to the particular incidence, stay focused on it.
Below is a sample letter that has been written to the staff members of the marketing department in a company who violated the discipline of the company and caused their boss to decide between not advancing anyone to the higher post.
Sample letter:
Date:
To: Staff of Marketing department
Subject: No promotion due to discipline violation
Respected staff members,
It has been brought to my notice that the marketing department of the company is having serious disciplinary issues. On 5th September, there was a clash between two employees due to which, lots of customers have to wait in the long queue can face inconvenience. Therefore, the company has decided to not promote any of the staff members from the marketing department this year. I am very disappointed due to this non-professional behavior and therefore, was compelled to take this tough decision.
As per the policy of the company, the staff cannot be advanced to the higher post if it does not meet the expectations of the company in terms of showing good conduct. The company can reconsider the decision if the staff shows any improvement in the discipline.
If you have any questions regarding your promotion or the disciplinary action, talk to my assistant Mr. ABC.
Regards,
Name of the employer
Signatures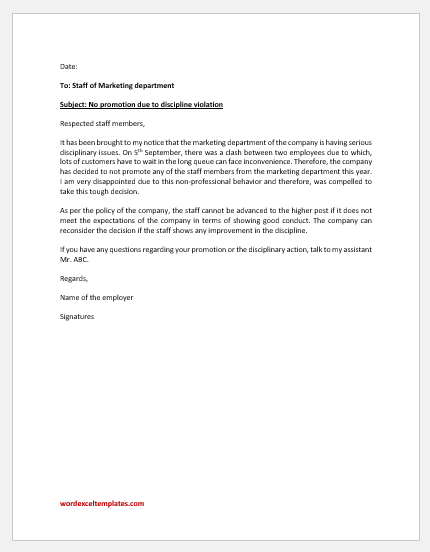 File: Word (.docx) 2007+ and iPad
Size 28 KB