The internship is a great opportunity for fresh graduates and passionate individuals who want to succeed in their careers after earning some skills and experience. Gone are the days when people would be given a choice whether to start with the internship or not. These days, candidates who have completed their work in the internship are given preference over those who try to make their career without any experience.
Just like a job, starting the training job also requires the candidate to be eligible for it and then to apply for the position with the required documents. One of the most commonly demanded documents is a recommendation letter.
What is a recommendation letter for an internship?
This is a reference letter written in a business setting that helps people avail themselves of an opportunity to learn new skills and polish their pre-existing skills. 
When to write a reference letter for a candidate?
In general, we are approached by different people, usually, young people and they ask us to write a recommendation for them. These people are usually those who have worked with us and interacted with us in one or another way. So, we know them well and it is high time we think about whether they deserve to be recommended or not. 
It is not always mandatory to write a recommendation when someone asks for it. If you don't feel like writing it, you can politely turn down the candidate.
How to write the best recommendation letter?
Before you write a letter, you should make a purpose and then stick to it. In most cases, the purpose should be to throw some light on the aptitude and abilities of the candidate. However, you can also read the internship requirements in detail to know adding what information can help the candidate in getting selected. Follow the guidelines given below:
Write on a letterhead:
If you are the employer of the person you are endorsing, you must use the letterhead of the company. This letter includes the name and logo of the company on the top. It depicts that the recommendation has come from an official source.
Explain how you are connected with the prospective intern:
The recipient is not going to believe your supporting words for the candidate unless you explain that you know him well. So, you should explain your connection with the subject of the letter. While explaining this, tell for how long you have been in connection with him and what setting. Don't forget to remain brief and to the point while writing these parts.
Give a formal statement of reference:
Formally state that you are highly recommending the person you have targeted in the letter. Make sure that there is no confusion or ambiguity in the statement you write. Avoid writing ''ifs'' or ''buts'' to create confusion.
The sample letter given below is the best way to learn how a perfect recommendation letter can be drafted.
Sample letter:
Name of the sender:
Date:
Name of the candidate:
Subject: Recommendation letter for internship
Respected (mention the name of the recipient),
According to my knowledge, Mr. ABC is applying for an internship program with your company as a network manager. I have known Mr. ABC for more than 10 years and have luckily found many opportunities to work with him. He has always been a very passionate and energetic person ever since he was in elementary school.
I have always found him as a passionate learner who was always ready to learn new things. Now that he has grown up, he still loves to work with elders and young people to gain new experiences.
Mr. ABC always helps needy people and he is also working with an NGO for a good cause. I have absolute confidence in his good nature and his capabilities to learn and adopt new skills and polish them over time. I believe that Mr. ABC will be the most suitable intern to work in your company.
In case you want to know more about Mr. ABC, you can reach me at (mention your phone number) or email me at (mention your email address).
Regards,
Name of the sender
Company's name
Signatures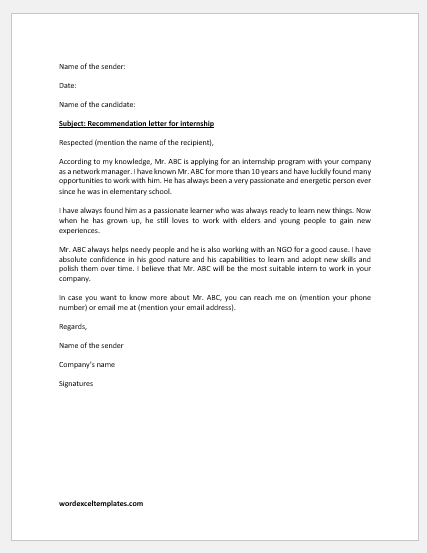 File: Word (.docx) 2007+ and iPad
Size 21 KB