It is common for employees to ask for leave from work when they have something very urgent to do. Sometimes, they request time off which also means leaving the office earlier than usual. People generally take leave when they are physically sick. However, mental health is something as important as physical health. So, when an employee is stressed out and does not feel like working in the office, he can write a letter to his boss and request time off.
What is a request letter asking for leave?
It is a kind of appeal that people write down when they communicate with their boss to take a break from work. In this letter, they tell their boss that they are not able to stay at work and focus due to something in their life that is bothersome.
No matter how hard we try to balance our personal and professional life, facing stress in life is inevitable. The stress can be due to a person's inability to meet deadlines, disagreement with someone at work or home, lots of incomplete work, and much more. Whenever you feel that there is so much stress in your life consuming you badly, you must take a break.
When to write the appeal to ask for time off?
Various situations call for writing a request for time off in a professional manner. Some of them are:
When the employee is not able to perform his duties due to stress because he is not focused on his work
When there is so much on the mind of the employee and it has already impacted his mind
When the employee at work is feeling symptoms of depression such as unnecessary anger, anxiety, panic attacks, hopelessness, and much more
How to write the request to ask for a leave from work?
Inform your employer:
Mental health is not given any importance and most people don't even consider it as a problem. However, it is still a problem and one should be open to others about it. When a person needs leave from work because he is so much stressed out, he should not shy away from informing the employer that he is not feeling good because of pressure and he is unable to perform his duties well.
Share the doctor's note:
If you have visited the doctor and he has also confirmed that you going through mental pressure that has affected your life completely, you must share that note with your employer too.
Request for the time of:
Since you have already told him that you are under stress, now it is easy for you to tell your boss what you want. Formally request him to allow you to leave the office earlier than usual. Let him know that this break is very important and it will have a positive impact on your personality as you will come to work with a fresh mood and more positive energy.
Sample letter 
Date:
Name of the employer.
Name of the department:
Company's name.
Subject: Request for leave
Respected Sir,
I am Mr. ABC working as a senior manager in the finance department. As you know, the last few days have been very hectic for everyone working in the finance department. Being a senior manager, I was having an immense workload that has badly stressed me out.
Now, I am unable to focus on my work and I feel that I would not be able to come back to work with the same energy unless I get some time off and relax. Therefore, I am writing this letter to humbly request you to allow me to take a break from work.
I have already reached my goals for this week and nothing is pending on my side. In addition to it, I will be available on the phone if there is something very urgent to discuss with me.
I hope that you will understand my situation. I am looking forward to a kind reply from your side.
Sincerely,
Name of the employee
Employee ID
Department name:
Signatures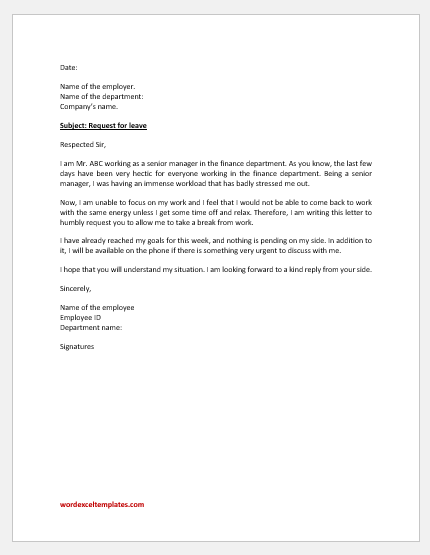 File: Word (.docx) 2007+ and iPad
Size 28 KB