People who work under your supervision are required to show subordination since this is what they are paid for. Those who don't follow your instructions are answerable to you as they choose to work for you with the help of your guidelines. So, you can ask them why they showed insubordination
The query letter is written to the person who has shown non-compliance with the policies of the company and does not follow the instructions. The purpose of this letter is to ask him what made him do this. This letter is an indication for an employee that his behavior and performance are being monitored continuously and he will have to be answerable for not acting upon the instructions.
What to include in it?
When you write to an employee who has not been following the instructions, you can choose to write a letter that has the following components in it;
Description of the insubordination:
Start the letter by mentioning the fact that you have been reported that the recipient of the letter has shown non-compliance. Mention what kind of unruly behavior it was and how you think it has impacted the environment of the company.
Ask question:
Since it is a query letter, clearly ask the reader to provide you with the reason behind the unruly behavior he has shown.
Remain polite:
The query letter is not a warning letter and therefore, the tone should be rather polite than strict. Ask politely about the reason and then close the letter.
Read two sample letters given below for understanding how to write query letters:
Sample letter 1:
Subject: Explanation for insubordination for [XYZ] during [ABC]
Dear Mr. ABC,
It has been reported to me by your supervisor Mr. XYZ that you have not been obeying his instructions. You were made clear about the departure time of employees and it is the policy of the company that if the employee wants to leave before the departure time, they will have to seek permission. It has been noticed that you don't bother to take permission and leave the office 10 or 15 minutes before the off timings of the office.
Every employee working in the company is required to abide by the rules and policies of the company. Those who do not follow the rules demonstrate insubordination and hence, they are answerable for their action.
I am writing this letter to enquire about your behavior as I am worried about the discipline at the workplace. The company can never tolerate insubordination at any level and therefore, it can take disciplinary actions against you.
You are required to explain how you don't show adherence to the office timings. If you have any problems, you can talk to me in person.
Regards.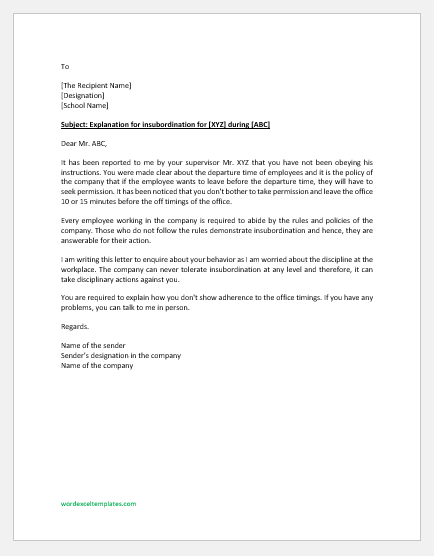 File: Word 2003+ Size: 34 KB
Sample letter 2:
Subject: Query for insubordination during [XYZ]
Dear Mr. ABC,
It has been brought to my notice by your supervisor (mention the name of the supervisor) that you have not been obeying his instructions. You also acted rudely when he tried to correct your behavior. You need to remember that any type of insubordination by the employees without any genuine reason is dealt with by serious actions. The company can never tolerate unruly behavior as it often leads to serious repercussions.
I have also experienced that you don't take the instructions seriously. Your presentation in official meetings is often late and also not up to the mark. Through this letter, I am asking you to give an explanation for demonstrating insubordination in the workplace. You are required to provide an underlying reason for not being able to follow the instructions.
If you have any problem following the instructions, I can arrange a face-to-face meeting with you to resolve your issues. Feel free to contact me at (mention your contact details). I look forward to your good performance and professional behavior. Thank you so much for your anticipation.
Regards.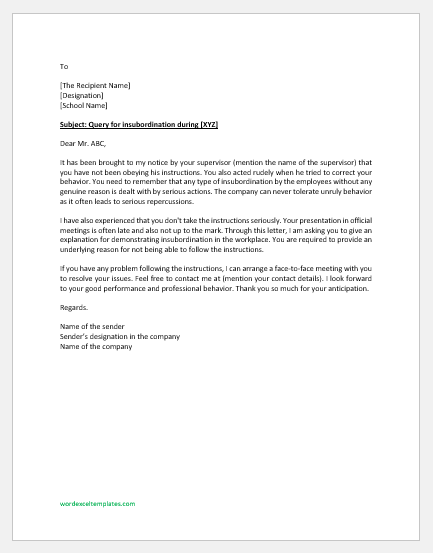 File: Word 2003+ Size: 31 KB