Letter 1
I am writing to propose a computer training program for all employees at XYZ. This training will help improve the efficiency and productivity of each employee.
The proposed training will cover the following areas:
A refresher course related to basic computer skills including the use of MS Office Suite.
Presentation-making skills using graphics.
Troubleshooting basic computer issues.
Maintaining cyber security and protecting the company's important data and information from cyber-attacks.
This training will aim at equipping our employees with the necessary skills and knowledge to improve their work performance and diligence. It is going to be beneficial for the employees as well as the company.
We will avail the services of experts and lecturers from the Computer Sciences Department at ABC University to conduct the training program. The venue for the training can be Seminar Room 2 at our Islamabad branch which can easily accommodate all of our employees. The entire program is expected to take one week if we conduct the training sessions for 3 hours each day after office time.
The estimated budget for the training amounts to $[X]. This includes the trainers' fees, resource materials, and refreshments for the participants.
Please contact me for further discussion and details about the proposal. I look forward to your response.
Letter 2
I am writing to propose a computer training program for our employees in the aftermath of the unfortunate incident that took place in September regarding the theft of the company's important documents. The main objective of the training will be to strengthen the company's cyber-security in order to protect our sensitive data.
The training will aim at providing the following skills and knowledge to our employees.
A basic understanding of the concept of cyber-security and the types of potential cyber threats we can face in the corporate world.
Maintaining password protection for important official documents that are saved on the cloud.
Protection against malware and a possible computer virus that can disrupt the company's operating systems.
Maintaining email security so that all official correspondence can remain confidential.
Maintaining network security through useful security measures in order to prevent intruders from accessing the company's data and important information.
Incident response training equips us with the skills to deal effectively and quickly with security incidents.
We will hire the best cyber security experts to conduct this training. I am confident that this program will help our team cope with security issues successfully and efficiently. The company will be able to prevent future cyber attacks through proper training and skills in this field.
I look forward to the management's approval of this proposal. Please contact me for further details about the proposed training program.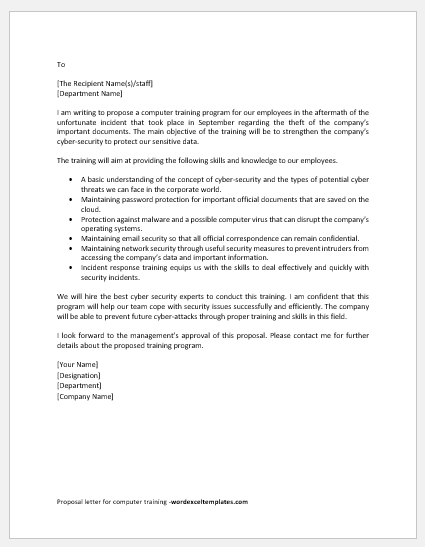 See also: