The role of computers helps an organization work more quickly, reduce costs, seamlessly track all the finances and keep tabs on the inventory of the company. There is so much a computer can do and this is the reason, we hardly see any area of work where the use of computers is not involved.
It is important to remember every useful thing that a computer brings to the table remains useful when people can use it effectively. This is the reason, every organization focuses on the training of its staff so that they can be adept at using a computer system for performing their day-to-day tasks.
Why is a computer training proposal letter written?
Computer trainers are those professional individuals who have extensive experience in training people about the use of the computer system. In addition, they are equipped with a lot of knowledge due to which they qualify for work as a trainer. Those people who have a team of professional trainers write a letter with a proposal to train people so that they can use the computer like professionals.
Who writes this offer letter?
Many such organizations provide their training services. They have a team of expert and professional people who have plenty of knowledge of computer usage and are also equipped with a lot of knowledge. These organizations write this letter and try to convince the reader into getting their coaching services for better and more powerful training that can be very useful in the future.
When to write?
Some trainers write this letter because they observe that there is a need for a trainer while some write only because they want to run their business. However, regardless of the purpose of writing, the coaching always turns out to be very useful as it lets people know how they can make use of computers to achieve their goals in their personal and professional life.
Things to include in the computer training proposal letter:
Here are the key details to add to this proposal letter:
Introduction:
Whether you work on an individual level or you run an organization, you will always need to give your introduction. In the introduction, you should tell your qualification, how long you have been a coach, details of licenses and certificates you have achieved and from where, a list of coaching licenses, your experience with coaching your strength areas, and why you want to work as a computer coach.
Key areas of training:
Computer training is very extensive and no trainer in this world can cover every field and area in a limited time period. Since every trainer has a limited time period, it is important to focus on those areas of coaching in which you are best at.
For example, some people are good at training people to use various software being used in the company while some train people to use the most commonly used software such as MS Excel. At the same time, some trainers also focus on hardware repair training.
You can elaborate on what you are best at teaching and then also describe how your coaching session will benefit those who complete the entire training program. 
Description of the training program:
Since you have initiated a program, you can better explain the program. You should explain the total duration of the program, learning outcomes of the training, number of sessions in one program, use of technology during each session by coaches, methods of assessment, and much more. This is the most important part of the letter as many people base their decision according to the information mentioned in it.
Pricing information:
Inform the reader how much he expects to be charged for these teaching services. Let them know if there is any discount being offered by you to your first-time customers. Also, discuss the different payment options you provide to your customers.
How to close the proposal letter?
Like any other formal letter, the proposal letter should also be closed with courtesy. Provide your contact details and mention that you look forward to a positive response. Also, refer to the attachments with the letter if you have any.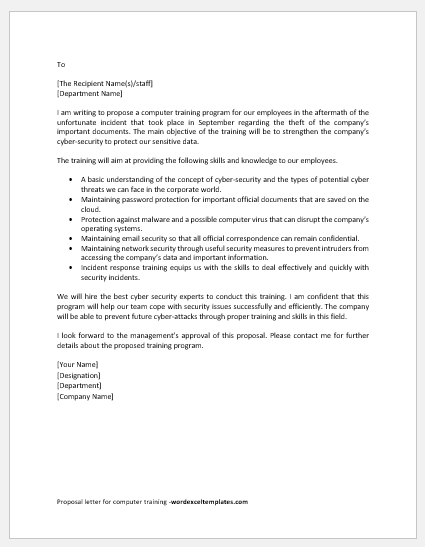 See also: