Animation videos are special types of videos that are designed with computer-aided tools, drawings, and illustrations to make the visual content more eye-catching and attractive. Animated videos usually don't require live actions and everything shown in these videos is creative and depends upon the skills of the person.
Those who make animated videos have special skills other video creators and producers lack. This is the reason when a company or a publishing platform needs animated videos, they ask for talented people to come forward and draft a proposal letter for them.
What is an animated video proposal letter?
This proposal is prepared by specialized and talented graphic designers who work with motion pictures and have the prowess to design such videos that are capable enough to gather the attention of the viewer.
Through this letter, a motion picture designer gets the opportunity to let his prospective client know about the services he provides. The entire purpose of this letter is to make it a very informative document that is full of details and also to convince the reader that your services as an animated video creator are unique and they should give you a chance.
What is the best strategy to follow for writing an effective proposal letter?
You need to be well aware of the right strategy assuming that there are so many service providers and it is only how you present yourself that is going to impact the reader's decision. So, before you start writing this letter, you should read the request for proposal very carefully so that you can know which type of audience you are targeting.
You should also conduct the analysis to know people of which age group you should target and what type of animated video they want you to create for them. Sometimes, analysis helps you come up with the best and most suitable new idea for the reader.
How to write a proposal letter that strikes the reader?
Your proposal letter should be impressive and persuasive at the same time that will keep the user engaged with it and it will compel the reader to read the entire proposal letter. Here are a few steps following which will make you end up with a perfect letter of animated video proposal:
Write an interesting introduction:
Writing an engaging and interesting introduction will help you get the attention of the reader. Most of the proposal letters include a very conventional introduction of the animated video creator written in a traditional way.
Writing the introduction in an interesting way does not mean you are required to add unique details about yourself. Rather, it requires you to give the same type of details but in a different way. You can keep the user hooked if you are capable of explaining yourself and your professional profile uniquely.
Sell your services:
There are lots of services that people these days expect a person to provide. So, if you are an expert person who works as a creator of animated videos, your prospective client assumes that you are capable of providing a multitude of services that are directly or indirectly related to animated video creation such as editing, publishing, adding effects to videos, and whatnot.
You should explain what type of services you provide because this may be a turning point in a letter that distinguishes you from other professionals in your field.
Outline the timeline and charges:
People who are being targeted through this proposal letter usually want to read about the timeline and charges because how quickly you can provide your service and how costly it can be for the reader are some primary details that can decide whether a reader will accept your proposal or not.
Download a readymade letter:
Animated video proposal letters may be different for different service providers. However, most of the details in these letters are common. So, if you download a ready-made letter, you can get a very easy-to-customize and use template that will not only save you time but also give you the ease with which you can outline your proposal letter without doubting your prowess and expertise writing.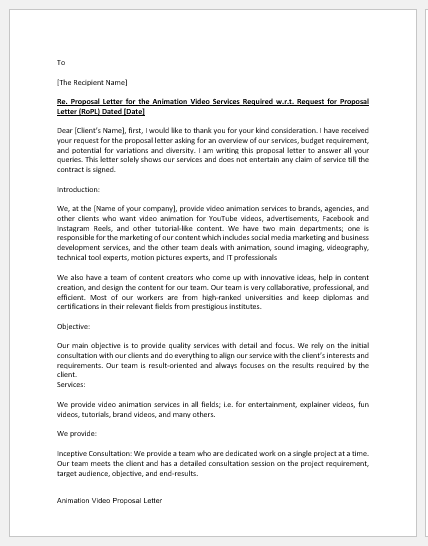 Proposal Letter File 49 Kb
#2
Re. Animation Video Proposal Letter
Dear Client, I am glad to observe your interest to do business with us and hope it will be a great experience for both of us. I am excited to submit my proposal letter to you on a project related to video animation. I have thoroughly read and understood your requirements, script, and desires for the outcome. I also have read the terms and conditions and am pleased to confirm that we shall comply with all the terms and conditions mentioned in the Request for Proposal Letter (RoPL) dated [mention the date].
Introduction:
We, at the [name of the team/firm/organization], take pride in working for more than [x] years delivering services related to media research, videography, animation video, YouTube automation, advertising, and other related tasks. We also provide outsourcing for the location of shootings, and photography, and provide manpower for the technical handling of the projects.
Our Mission:
We believe in delivering high-quality services according to the latest trends in the market. We provide services for the extendable time in which we provide revisions and extra tasks related to editing and other technical customization. Our mission is to create client-oriented results that align with their targeted audience.
Our Services:
For this project, we can provide you following services:
Initial consultation through meetings and mutual understanding of goals
Detailed discussions and work on settling the target audience and their related content ideas
Potential Loopholes and risk factors
Video animation; both in classical traditional and modern mode
Voice over
Final editing
Two revisions for free
Timeline:
The current project will take ten days from the day of initiating the project. We always try our best to minimize the factors of delaying the project, however, a margin of 1-2 days should be considered.
Budget:
The project will cost $[xxxx] including all the expenses from consultation to final delivery of the project. In case of a revision for the third time, it will be charged with standard rates of editing.
Conclusion:
We are pleased to tell you that the above-mentioned services, timeline, and budget can be accommodated according to your needs. Therefore, we realize the need for a meeting in person or online in which our teams can discuss their goals, understanding of the project, and other factors like budget and timeline.
If you have any questions, please feel free to ask. Also, you can contact our client coordinator any time during office hours at [phone number] and [email address]. He will be pleased to guide us on the further dimensions of the project.
Thank you for showing your interest in working with us. We hope to work together on this project and build a great collaborative whole enticing the success of this project.
Thanks again!
Best Regards,