Every salaried person can relate to the fact that he waits for a salary like nothing else. He may have planned for a lot of stuff and everything rests on the salary he may get. In case it gets late for some reason, exhaustion and frustration are natural. In such a situation, the only thing that can comfort the employee is a pending salary request letter.
This letter bears the details of the problem that an employee has not received the salary even after the due date. The letter is written by the employee and is addressed to either the finance department or the employer. As in business, the majority of the communication is done in written form for future referencing thus this letter is also written in a set format and style.
An employer usually knows that paying for the employees is his foremost duty as it is the easiest way to keep them motivated and it is their right to get paid on time as well. But sometimes, due to certain reasons, the payment may get late. The reasons may include negligence on the part of the bank or the finance department of the company.
So, the employers encourage the employees to write this pending salary request letter so that the employer gets to know about the problem promptly and the issue can be resolved.
Sometimes, the higher management may not know whether the employee has received the payment or not if not communicated. This also shows that communication is the key factor in an organization.
The best way to write a professional-looking pending salary request letter is to use a template for it. It will make the whole process a lot easier and more efficient. However, a salary request letter must contain a few details which should always be kept in mind, like the letter must be addressed to the concerned person only, otherwise, the effort will be wasted away.
Secondly, a letter must be written in a formal and polite tone and should point out the discomfort this delay has caused. It must always end with a polite salutation.
Sample letter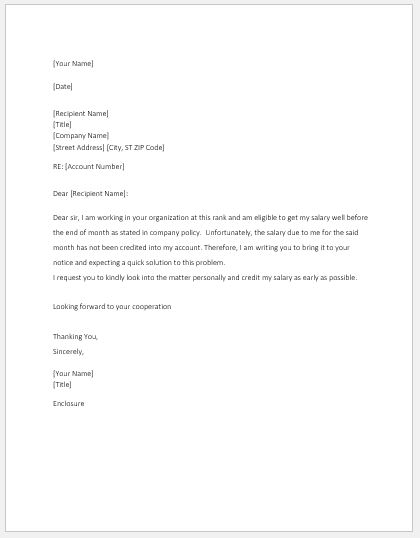 File: Word (.doc) 2007+ and iPad 
Size 30 Kb
Other Samples
#1
Dear Sir, this is to bring to your notice that my salary for the months of March and April is pending and has not been credited to my account. Due to some personal problems, I had to move to another city and gave resignation. I had let the administration know about my resignation on prior notice and had finalized all the clearance formalities. I am in huge debt now and running through a financial crisis.
Therefore, I request you to please transfer the salary to my account as soon as possible. I have attached my resignation letter's copy, ID card, and required documents with this letter and I hope you will do this on an immediate basis.
#2
I am Steward Jones and working as a Sales Officer in your organization. I work hard to provide my best services to customers and meet their expectations. I am writing this to bring to your notice my ending salary for last month. I did not want to bring the matter to you but after making several visits to the accounts department and getting no response I had no option but to request you to look personally into this matter.
My financial position is not strong and I have set my budget according to my monthly salary. As I did not receive last month's salary so all things got disturbed and I could not manage. I have to pay the electricity bills and my daughter's school fees. I request you to please do something in this regard and solve the matter as soon as possible.
#3
Hope you have been doing great. I have been a part of your company for the past two years and I leave no stone unturned in accomplishing tasks. I consider it my foremost duty to work with full dedication and enthusiasm and remain committed to it.
The problem is that the salary for August has not been credited yet to my account and I am facing a lot of financial problems. I meet my all expenses with this amount and any delay in it disrupts the monthly schedule. Therefore, I request you to please do something in this regard. I have attached my salary slip and related details with this letter. Thank you for taking the time to read my message.
#4
I am Meezo Paul and had worked as an Assistant Manager in your organization. Five months ago, I resigned from the job and informed the concerned authorities about it beforehand. It was mentioned in the company's policy booklet that the employees will be given full salary if they inform a month's notice.
It has been six months now but the salary for the months of January and February has not been credited. I visited the admin office in this regard and they told me within the next fifteen days this matter will be solved but it was all lie. I request you to release my salary. I will remain indebted to you for this favor.
#5
I am Emmy Seth and work in the laboratory sciences department at your institute. I receive my salary on the 5th of every month and never met with any difficulty. This letter is to let you know that I have not received my last month's salary. I am out of money nowadays and need to pay some medical bills.
Therefore, I request you to please credit the pending salary in my account on an immediate basis. The related documents are attached with the message and if you need further information I will provide you all. I shall be very thankful to you for considering my request.