Every business or organization understands that how important their client/customers are for them. The satisfaction of the clients ensures the going concern of a company. This means that the organization to client relationship needs to be perfect and any mishap or complaint must be addressed promptly. If a company really wishes to do that, it must ensure that the problems are correctly addressed to the concerned department immediately. Most of the companies have made special departments which are assigned to look after this matter.
Imagine yourself in a situation where you visit a place and you do not like the services at all what would you want to do? You would want to immediately launch a complaint so that next time you visit the place or the next person comes in gets the best of services. For this purpose, the customer can launch his complaint in a written format. The complaint being in writing form ensures that it can be tracked by the management.
The management, on the other hand, keeps all these written complaints in a complaint log. This helps them to consider the matter more closely and keep a track of the kinds of complaints they are getting from the valued customers. This tool is indeed an important part of any business or organization and every company should use and accept it from its valued customers.
To regulate this excellent tool, businesses usually provide templates for this complaint form. A customer can easily fill in the details of the complaint in this form and a complaint would be simply launched. These all complaints when are jotted down in a single file is known as a complaint log. Just by going through this log once, the management can know about the weaknesses and the work that has been done to rectify them and how much more work will be needed to reach the customer's satisfaction level. If a company really wants to excel in the field, a prompt notice needs to be taken against the complaint received.
Preview and Details of Template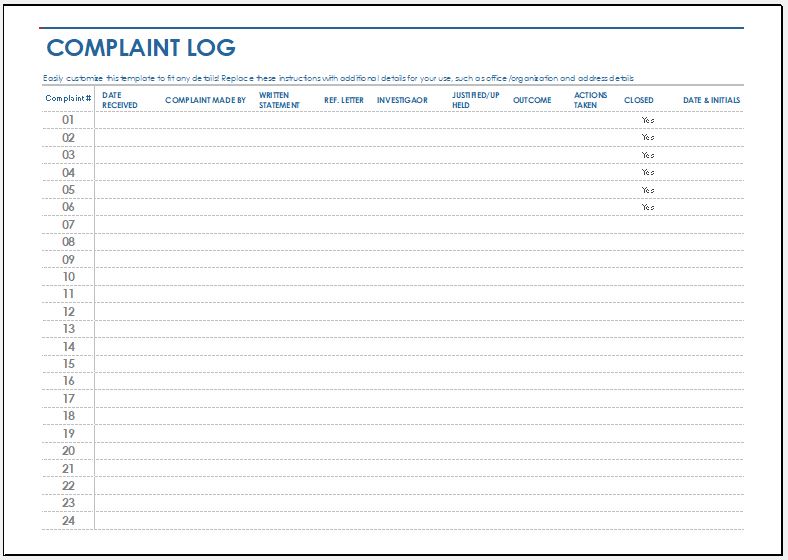 Complaint Log Template
File: Excel (.xls) 2003+ and iPad 
Size 76 Kb | Download
License: ENERGY [Personal Use Only]
View Also