We all wish to have control and power in our life. But the question is how do we get them both? The simplest answer is to maintain discipline. Yes, it might seem hard to create a link between control, power, and discipline. But the reality is, discipline is the root of everything in our life. If we live a disciplined life, we might not be very smart but even then we can achieve more than our capacity.
In the recent years, socialist have been putting great stress on time management. The reason is simple. If you know how to manage your time effectively, you have mastered one of the most needed skills in your life. With mastering one skill, we accidentally master other skills as well. Discipline is one of those skills.
We see a certain type of strictness in schools. Waking up early every day, abiding by rules and maintaining a decorum. All these activities at a young age may seem boring, but they train us to be disciplined in our future. As we enter college, we observe a different atmosphere than school. This is where we practice our discipline learned in school. Discipline is important in all walks of our life like schools, university, jobs and even business.
Even our universe behaves and lives a disciplined life. Discipline takes out the best of us and helps us function in the best ways. A disciplined person knows how to control their anger, how to react to situations and how to maintain personal peace. So, no one can deny the importance of discipline in our life.
As discipline is important in schools, it is even more important at workplaces. A company can have a variety of personality types. Two people might not like each other but if they maintain discipline, they can overcome their differences. For this reason, big or small companies have an HR department. They draft disciplinary policies and make sure employees follow them. In the case of an employee breaking the company policy, the HR would counsel the employee and maintain an employee disciplinary action form.
This form helps to record the problem and how it was dealt with. It provides a future reference to judge the performance and improvement of the employee.
Preview and Details of Template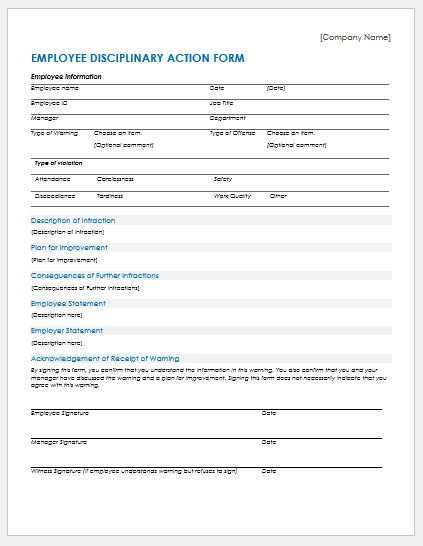 Employee Disciplinary Action Form Template
File: Word (.doc) 2003+ and iPad 
Size 576 Kb | Download
License: ENERGY [Personal Use Only]
---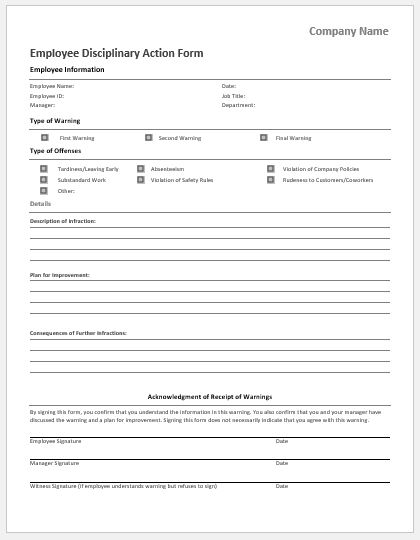 File: Word (.doc) 2003+ and iPad 
Size 576 Kb | Download
License: ENERGY [Personal Use Only]