An Employee Evaluation form is important not only for ensuring that the business runs successfully but also for properly supporting employee motivation as well as career planning.
What is an employee evaluation form?
An Employee Evaluation and Wage Review Form is a form that assesses how an employee works along with what their wage is. This form is, therefore, important in helping an organization or company.
How to make an employee evaluation form?
If you need to make this form, then you should do this clearly so that it can be understood simply. There are different ways to make this form, and some companies may prefer adding certain points whilst others may not. The following points can be considered:
In a table format– The form can be made in a table type of format having columns and rows.
Information of the concerned employee- Start by listing information of the employee. The heading can be given, "Employee Information." Points to include are Employee Name, Department, Employee ID, Position Held, Reviewer Name, and Reviewer Title. These are all required allowing the reader to know which department is concerned and who the employee is, along with their position. It is good to include the reviewer's name and title as well so that biases cannot be present.
Dates- Dates to include are the last review date and today's date as well.
Characteristics– A table of characteristics can be an effective way for the evaluation to be shown. There can be different columns such as the quality concerned, and then headings are stating "unsatisfactory," "satisfactory," "good," and "excellent." According to the qualities, the level can be ticked.
Wage information- A section stating the wage review of the employee needs to be clearly made. This can be in table format as well. The current salary should be stated. The date when the last raise occurred needs to be given as well.
Goals– A heading for goals that tell whether the goals set previously have been achieved as well as the goals for the next session can be given as well.
Comments– A section for comments is good because it can add any other information. Comments can include whether the employee is working well according to their salary and if a wage increase may be suggested if the work done is good.
Signatures– The employee and reviewer's signatures may be given at the end.
Advantages of the form:
Let's the employer know how the employees are working and their wages as well.
Helps in the effective functioning of the organization because any employee not working properly can be consulted.
Allows the employee to know whether they are working according to the standards set for them.
An employee evaluation form is an important form for a company or organization. It, therefore, needs to be created carefully. It should be simple to read without including unnecessary information. Precise and easy to understand content should be included.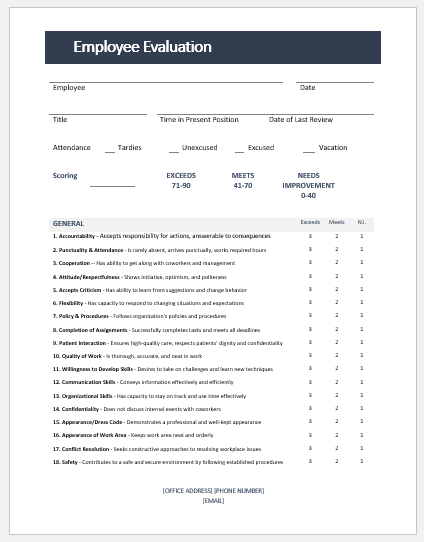 File: Word (.docx) 2007+ and iPad Size 80 Kb |
Download
---