There are many situations when a company is bound to task its existing employees with more responsibilities. In this situation, the company issues an order to the employee.
Every organization issuing this memorandum should responsibly provide the details. Delegating additional responsibilities might not be good news for many employees. Therefore, informing the employees about it should be done with a very careful choice of words.
Make sure that the order issued by the office is not too long. Simply outline some important details and then close the letter by communicating your expectations to the reader.
This is a letter or a memorandum that issues an order for the employee to let him know that the company is assigning some additional responsibilities to him. This letter generally outlines the decision of the office. Other details related to the assignment of additional duties are also outlined in this letter.
Following are the details that must be mentioned in the order issued by the office:
The description of the order regarding the assignment of additional responsibilities to the employee
The reason for tasking the employee with extra responsibilities.
Description of the bonus or incentive the employee will be given after he has successfully fulfilled all the responsibilities.
Details of how long the extra duties will be performed by the employee.
Read two sample letters given below for clarification of how to write these types of letters:
Sample letter 1:
Subject: Letter for additional responsibility for [XYZ]
Dear Miss Lisa,
This letter is being written to inform you that the company has decided to bring some changes to your job responsibilities. As per the decision, you will be fulfilling some additional responsibilities for a period of 2 months. This decision will be effective from 1st October 202X.
The company has taken this decision after there has been a shortage of workforce in the company. The position of manager is very crucial and we cannot afford to hire a new candidate for this position. Considering your exceptional performance in the office, we have decided to assign you some extra job responsibilities. You will be required to work 2 hours extra for the office. In addition, your salary will be 30% increased.
We hope that you will cooperate with us. Moreover, we assure you that you will not be burdened as this decision has been taken after considering lots of factors. If you have any questions regarding this order, we can organize a face-to-face meeting with you. Thank you so much for your support.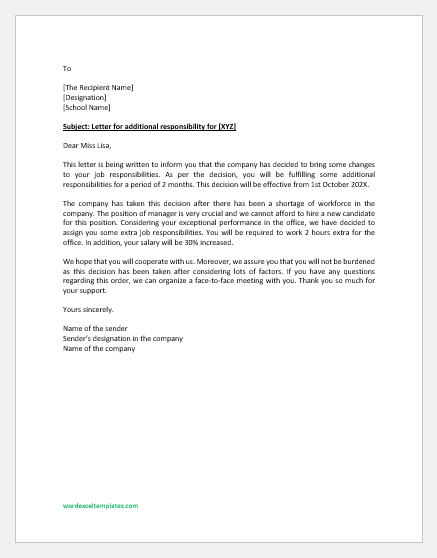 Format: Word 2003+ Size: 39 Kb
Sample letter 2:
Subject: Additional responsibility designated to [X] for [ABC]
Dear Miss Lisa,
Please find this memorandum as a formal office notification with an official order of assigning additional job duties to you. As you are already working as a customer representative for our company, now you will also handle our three social media channels in order to coordinate with our digital customers. This will help the company grow.
Our company is expanding its services and size and therefore, we have decided to use social media for marketing purposes. After thorough research, we have come to know that our customers and clients want to see us digitally present.
We have decided to ask you to take on additional responsibilities because you are a very responsive person and we believe that you can easily handle these new job roles. In addition, you also have experience now of dealing with customers which, we believe that you are the most suitable person for this job.
We are going to give you a 10% raise in your salary so that you can showcase your changing job roles. We would also love to appreciate you through an increment in your salary.
We are very excited to see you perform these job tasks that are added to your job responsibilities. Thank you so much for your coordination.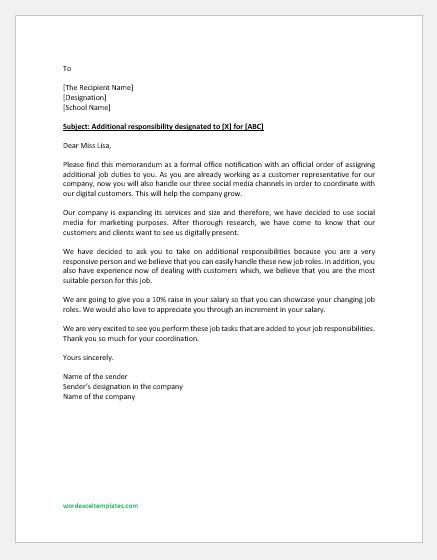 Format: Word 2003+ Size: 39 Kb