Every organization expects the punctuality of its employees in the company. The careless behavior and not observing the rules and regulations of the company cannot be tolerated at any cost. Because of this, every company has some strict policies to keep a check on the punctuality of the employees. Many companies also deduct the salaries of latecomers.
In order to maintain the office timings, a notice in the form of a circular is sent to the employees. The main purpose of this notice is to remind the policies of company so that the employee can follow them.
The notice for late coming employees should be written in a formal way. The tone of the notice should be polite. The notice is kept as a record in the company so when the company decides to terminate the employee, it can show that notice as proof that the employee was repeatedly warned.
The notice is written on the letterhead of the company. In order to give the notice a more professional look, it should be signed by the owner of the company.
Notice to late coming employees:
It has been observed that there are a lot of irregularities and indiscipline in the entire staff of the company. The late coming of the employees has been recorded several times which is seriously affecting the productivity of the employee and the growth of the company.
The organization always understands the genuine reason for being late and cooperates with its employees. However, it has to take strict action when an employee starts taking this privilege for granted. So, from now onwards, no request of the employee for coming late would be acceptable.
Henceforth, it is to inform you that if the management of the company finds any employee coming late to work, strict action will be taken against him/her according to the agreed-upon terms and conditions of the job. Some of the serious actions include the deduction in the salary of the employee. It is therefore expected that the employee will be at work at the right time.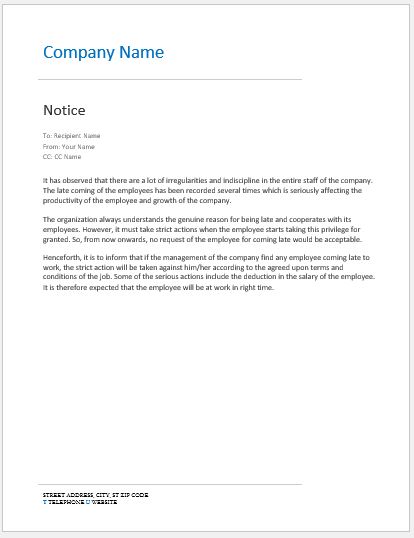 File: Word (.doc) 2007+ and iPad
Size 40 Kb
Various other sample notices
1-
This message is an official notice for your coming late to the office several times. It has been reported that you come late daily, and I am astonished by your attitude. This behavior is not acceptable at all but only if you have valid reasons.
Every organization has its own policies, and it is mandatory for every worker to follow them. You have been warned many times by your manager about this, but you did not take it seriously. This is the last warning to you to follow the office timings and in case you have any problem then you can report it to HR, and we will accommodate you accordingly. I hope you will take this message seriously. Waiting for a positive change in you.
2-
This is to inform you that you have been irregular for the past few weeks. This thing is badly affecting the overall productivity of the organization. The company understands its employees' problems but if you are having issues then you should inform HR. The company does not bear the unethical and indisciplined attitude of its workers when they take it for granted.
In the future, you will not be entertained, and no excuse will be considered. Therefore, you are advised not to perform such action again and if you are caught doing so then the organization will take action against you and you yourself will be responsible for this. I hope you will act upon what has been said to you.
3-
Please take this message as a verbal warning for your coming late to the office. You do not follow office timings and report late on daily basis. I was going through your monthly report and have observed several shortcomings in your progress. Your performance is getting down and you do not seem interested in working at all. You will be kept under observation this week and if you continue to come late then I will have no option but to report you to the CEO. You are directed to meet me tomorrow along with an explanation letter of your coming late. I hope you will take this warning seriously.
4-
I am George Mathew, HR of ABC Organization, and writing this message to let you know that your irregularity in following the office schedule is paving way for serious problems. As an employee, you cannot keep things going as you wish; you have to abide by its rules and regulations. For a smooth working routine, the hard work of all the employees is equally important. You had already been given verbal warnings, but you did not give an ear to this. So, consider this as a serious warning otherwise we will take severe action against you.
5-
This is to bring to your notice that I have been receiving many complaints about your not coming on time and showing laziness in executing tasks. These are not the characteristics of any good employee. You are part of this organization, so you must have to go with its rules and policies. Please take this message as a warning and perform well otherwise it can lead to your salary deduction and a heavy fine. I hope you will not ignore the warning this time and will take it seriously.
6-
It has been noticed that you come late to the workplace, and you are doing it for a long time. This behavior cannot be tolerated at all. The office has its own timings, and it is mandatory for its employees to follow them. If you have some genuine reason for coming late, then inform it beforehand, otherwise, you will give invited to severe disciplinary action against you.