The employee warning letter is used when you have to make a hard decision regarding notifying the underperforming employee. Writing a warning letter is considered as a best practice to be used in organizations.
The employer can write the warning letter when he or she is not happy with the misconduct of the employee. The main purpose of writing this letter is to help an employee protect himself from the future disputes.
The misconduct of an employee cannot be ignored at any cost. Your company cannot work smoothly if the employees are not cooperating with each other.
The use of abusive language, stealing from the co-workers, not paying off the debt etc. includes the major reasons for a fight. These types of misconducts are not taken very seriously unless they are performed repeatedly. However, some types of misconduct can also affect the productivity of the employee as well as an organization.
Maintaining discipline in an organization is one of the most important priorities. When an employee is seen not following the rules of discipline, the disciplinary action letter is written to him.
The basic objective of writing the letter is to let the employee know that his bad behavior in the organization will not be tolerated. Here is a sample letter that will help you get an idea about writing a disciplinary action letter.
Disciplinary action letter for fighting at work
Dear [Recipient's Name],
We have been reported that you have some disputes with your colleagues. We want to inform you that fight at work is not allowed and will not be tolerated at any cost as it badly ruins the environment of the organization.
We hope that you are not going to fight at work again. We will have to take serious disciplinary actions against you in question if such kind of actions of misconduct is not corrected. You are expected to keep good relations with your co-workers as your cooperation with them is very important for the success of the company.
Preview and Details of Template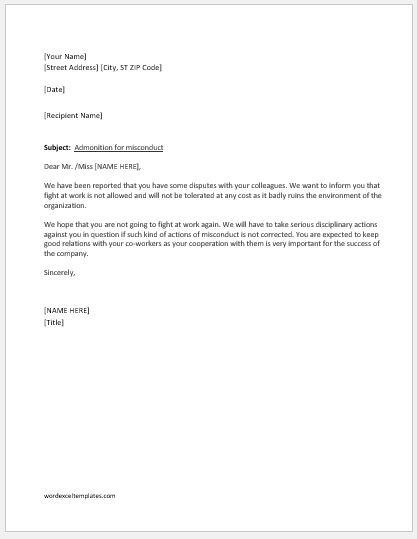 Letter Template
File: Word (.doc) 2007+ and iPad 
Size 32 Kb   | Download
[Personal Use Only]