The employee warning letter is used when you have to make a hard decision regarding notifying the underperforming employee. Writing a warning letter is considered a best practice to be used in organizations.
The employer can write a warning letter when he or she is not happy with the misconduct of the employee. The main purpose of writing this letter is to help an employee protect himself from future disputes.
The misconduct of an employee cannot be ignored at any cost. Your company cannot work smoothly if the employees are not cooperating with each other.
The use of abusive language, stealing from co-workers, not paying off the debt, etc. includes the major reasons for a fight. These types of misconduct are not taken very seriously unless they are performed repeatedly. However, some types of misconduct can also affect the productivity of the employee as well as the organization.
Maintaining discipline in an organization is one of the most important priorities. When an employee is seen not following the rules of discipline, a disciplinary action letter is written to him.
The basic objective of writing the letter is to let the employee know that his bad behavior in the organization will not be tolerated. Here is a sample letter that will help you get an idea about writing a disciplinary action letter.
Samples
#1
Your supervisor has let us know about the recent turmoil at the workplace you have been involved in. You raged the staff on baseless arguments that resulted in an unpleasant incident. This has impacted badly on our new hiring employees. This message is to let you know about the disciplinary action that the organization is taking against you.
You are suspended for fifteen days for ruining the company's environment. Your salary will also be deducted for damaging the office's property. I want to see in you a good change after two weeks. If this incident happens next then you will be terminated permanently. This will also be written in your character certificate, so avoid ruining your career.
#2
I have been informed that on [mention date] you were involved in creating turmoil in the company. You slapped Mr. Arthur for not accomplishing the assigned work. We cannot accept this attitude on the company's premises and it is an open violation of the company's policies. I considered you a responsible worker but you proved me wrong. As a team lead, it was your responsibility to establish a friendly atmosphere. You will seek forgiveness from Mr. Arthur and as punishment; the company is terminating you for a week. You have to submit an explanatory note to the HR office in two working days.
#3
I am Steward Faulkner, manager director of ABC Organization, writing this message to warn you for creating aggravation on [mention date]. You are directly inculpated in fighting with Mr. Alexander and Mr. Jackson.
We cannot bear such incidents at the workplace as it puts a bad impact on the company's environment. You need to maintain a healthy relationship with the staff. As an employee, your main focus should be on your career and the organization's progress. Your performance will strictly be observed now and any negligence will result in firing you out of the job.
#4
It has been brought to my notice that on [mention date] you quarreled with your teammates. This behavior is not acceptable and it can lead to take legal action against you. You should have asked your department manager to help you in sorting out the things. Instead, you started fighting and slapped Mr. Adam.
As a team leader does not mean that you are superior to others. Team management requires humble nature and a submissive attitude. You have to work a lot in changing your behavior. I do not want to hear about any such incident in the future. Failure to remain stick to the organization's rules will result in strict disciplinary action against you.
#5
We have been receiving many complaints against you for behaving ruthlessly with your colleagues. I was informed that you screamed at Mr. Louis and used abusive language which resulted in a serious fight. This message is to warn you that this behavior is not acceptable at any rate. Our policies are very strict in treating other employees badly.
At present, we are suspending you for three days. if you are further caught doing so then it will put drastic impacts on your job and future. The company demands professionalism from you. I hope you will change yourself after this warning note.
Disciplinary action letter for fighting at work
Dear [Recipient's Name],
We have been reported that you have some disputes with your colleagues. We want to inform you that fighting at work is not allowed and will not be tolerated at any cost as it badly ruins the environment of the organization.
We hope that you are not going to fight at work again. We will have to take serious disciplinary actions against you in question if such kind of actions of misconduct is not corrected. You are expected to keep good relations with your co-workers as your cooperation with them is very important for the success of the company.
Preview and Details of Template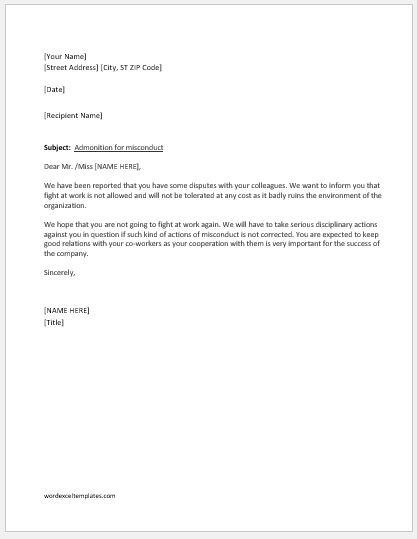 File: Word (.doc) 2007+ and iPad 
Size 32 Kb