Late coming of every employee in a company is discouraged. The late coming indicates the non-professional approach and careless behavior of the employee. Every institute adds the penalty for late coming employees in its policies. It is made obligatory for every employee to follow those policies to maintain the discipline in the company.
The late coming employees create inconvenience for the company as well as for the customers. It is important to let them know that they have been noticed and will have to answerable for coming late next time.
When some of the employees are coming continuously late without having any genuine reason of getting permission from the employer, the employer can write a circular that should be read and signed by every member of the staff.
The circular is totally based on the requirements and policies of the company. For example, if an organization has decided to deduct salary for late coming, it can be mentioned in the notice or circular. This will inform the employees so they will avoid continuous tardiness.
To make sure that the organization's policy is being followed strictly, the timings of the job can also be reminded of the circular.
The circular is written briefly. If there are instructions to be given to it, use the bullet points of numbering to increase the readability of those instructions. Keep the tone and the language simple and easy to be understood by every staff member.
Sample Circular:
It has been noticed that many people are coming to work very late. Repeated verbal warnings have been given to many people regarding coming to office late. We have noticed that despite multiple warnings, many people are not paying attention to those warnings.
Coming late to work is causing serious inconvenience. It hinders the smooth working of the organization and reduced the productivity of the employee. All the staff members are instructed to adhere to the policies of the organization regarding punctuality.
Any employee violating the policies of the institute will be noticed and remarked.
We expect you to cooperate with us for better and healthy working environment.
Preview and Details of Template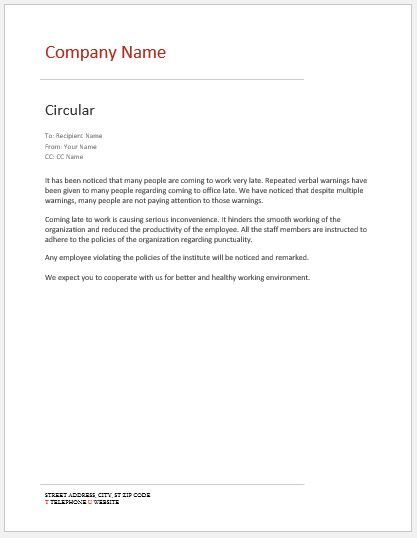 Circular for Late Coming Employees  Template
File: Word (.doc) 2007+ and iPad 
Size 23 Kb   | Download
[Personal Use Only]