The probation period in any company is a temporary period or status which is given to the newly hired employees. In this period, the employer has a right to terminate the employee if he finds that the employee is not doing well in his job.
If the performance of the employee is up to the standard of the company, the employee is usually given the permanent job position in the company.
The main purpose of this probation period is to check the performance and suitability of the employee for the company. The employee who is hired on probation is known as a probationary employee.
The employee should be notified prior to his hiring about this period. When the employer sees that the employee is not working well, he should conduct a meeting with the employee and should provide him the opportunity to give reasons for all his deficiencies. The employer can give the chance if he wants otherwise, a termination letter can be issued.
The letter should state that the employee was agreed to work on the probation period of the specified duration. The reason for termination should also be stated in the letter. The reference to the warnings should also be given. The employer can also remind the employee about continuing the obligations of confidentiality even after leaving the job. The employer should thank the employee for his efforts.
Employment termination letter within probation period
Dear [Recipient's Name],
It is to inform you that the probation period is being terminated effective on 22nd December 2017. We have observed that your performance in the company is unsatisfactory. According to the terms & conditions, the company has a right to terminate you by issuing termination letter 28 hours before termination within your probation period.
I request you to return the laptop and some other documents to the company's supervisor and sign some termination documents. I wish you best of luck in future.
Thank you for putting efforts in the company.
Preview and Details of Template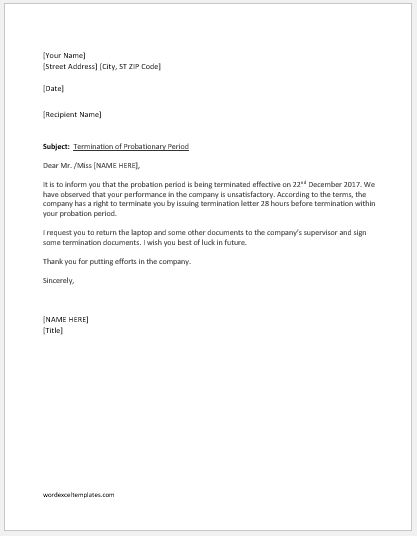 Letter Template
File: Word (.doc) 2007+ and iPad 
Size 33 Kb   | Download
[Personal Use Only]