The probation period in any company is a temporary period or status that is given to newly hired employees. During this period, the employer has the right to terminate the employee if he finds that the employee is not doing well in his job.
If the employee's performance is up to the standard of the company, the employee is usually given a permanent job position in the company.
The main purpose of this probationary period is to check the employee's performance and suitability for the company. An employee who is hired on probation is known as a probationary employee.
The employee should be notified prior to his hiring about this period. When the employer sees that the employee is not working well, he should conduct a meeting with the employee and give him the opportunity to give reasons for all his deficiencies. The employer can give the employee a chance if he wants; otherwise, a termination letter can be issued.
The letter should state that the employee agreed to work on a probationary period of the specified duration. The reason for termination should also be stated in the letter. A reference to the warnings should also be given. The employer can also remind the employee about continuing the obligations of confidentiality even after leaving the job. The employer should thank the employee for his efforts.
#1
Our organization extends full support to its employees and boosts their morale with different tokens of appreciation. We provide them with opportunities to enhance their professional skills and ensure a healthy environment. We were observing your performance thoroughly, and after a detailed discussion, we are sending you this termination letter. From [mention date], your probation period will end as we are not satisfied with your work skills. You have no interest in your profession and accomplish tasks after the deadline.
We need energetic and vigilant employees, but you do not meet our employee's criteria. You mentioned in your resume that you are acquainted with managerial skills, but I did not see this ability in you. You will no longer be part of our organization for breaching its policies.
#2
This letter serves as termination notice to you, as you failed to show us satisfactory performance. We provide adequate elbow room for our employees to help them grow professionally. You have started showing unsatisfactory performance, and now you fall into the category of lower-grade employees. You failed to enhance your sales target, and as a result, you will be terminated from your job.
You are no longer suitable for our organization, and your poor performance is badly impacting our other employees. Therefore, we are issuing you a termination note. You have to fulfill the final requirements required for official purposes. Thank you.
#3
This is to inform you that we have not gotten the desired results from your performance. For this reason, the company is terminating you, which will be effective from [mention date]. During your six-month probation period, you did not impress us, and the management is not satisfied with hiring you permanently. I had asked you many times to attend the trainee's session, but you took it lightly.
You are also not a regular in the office and remain absent without informing your concerned manager. While joining the company, you agreed to make the best use of your abilities, but your commitment did not come true. We tried to adjust you in different positions, but you are not perfect for any of them. Kindly visit the office tomorrow for some official requirements, and do not repeat the same mistakes in your next job.
#4
This is an official termination notice for you that has been sent by higher authorities.
We hired you on certain terms and conditions. You were kept on probation for six months, but now it is time to let you know the facts. We do not require your services after witnessing your poor performance.
You are solely responsible for your termination, as you did not act professionally for the assigned tasks. You lacked the enthusiasm that we demand from our employees. You were guided thoroughly during this time to improve your professional skills, but you took no benefit from it. Therefore, you will be terminated, and I wish you good luck in your future endeavors.
#5
Employment termination letter within the probation period
Dear [Recipient's Name],
It is to inform you that the probation period is being terminated effective December 22, 20XX. We have observed that your performance in the company is unsatisfactory. According to the terms and conditions, the company has the right to terminate you by issuing a termination letter 28 hours before termination within your probation period.
I request that you return the laptop and some other documents to the company's supervisor and sign some termination documents. I wish you the best of luck in the future.
Thank you for putting effort into the company.
Preview and Details of Template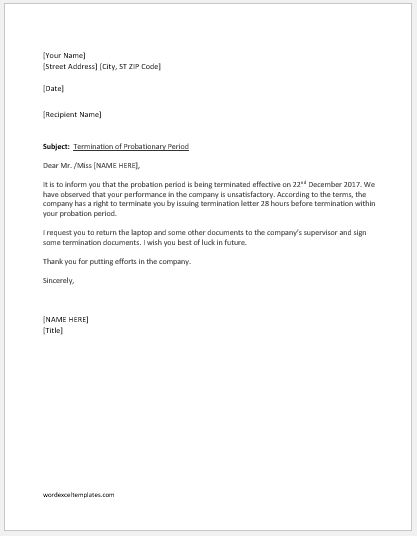 File: Word (.doc) 2007+ and iPad
Size 33 Kb