Indiscipline behavior is very common in almost every organization. The warning letter for indiscipline is written to the employees of the company when they show complete indiscipline in several situations and conditions.
The warning letter is written after several verbal warnings. If the employee is not changing his behavior despite various verbal warnings, then the employer has a right to write this type of warning letter.
The warning letter is important to write because it lets the employee know that his non-serious behavior is not acceptable for the organization and it can take strict actions against him if he will not correct his mistakes.
The employer should conduct a meeting with the employee in which he should talk to the employee so that he can answer all the allegations. If the reason for his action was justifiable, the employee can be given one more verbal warning.
The warning letter is a formal and professional letter that is loaded with all the necessary details and information. The major details of the letter are:
The complete description of the incident in which the employee's indiscipline behavior was seen.
The reasons that were provided by the employee.
The statement stating that the action of the employee was unsatisfactory.
The letter should state that if the employee will not change his behavior, he will be terminated from the job.
Sample -1
You are being issued a warning letter for indiscipline behavior at school. You were involved in a verbal and physical altercation with your classmate Mr. Reese Timothy on Friday, 12th March as per several eyewitnesses from school.
My Reese had to be rushed to the hospital as he was gravely injured and had dislocated his knee cap. His mother is in a lot of distress and has placed a complaint against you.
In addition to this, you have been acting inappropriately with your teachers and exhibiting aggressive behavior towards your fellow classmates. Your English teacher, Ms. Anna, has informed us that you do not do your homework on time and refuse to listen to any instructions from her.
We must inform you that our school has a zero-tolerance policy towards indiscipline behavior and disrespectful attitude. Consider this your first and last warning letter being issued by us. If this behavior is ever repeated, your name will be struck off college roll without a possibility of re-admission in our institution ever again.
Your parents Mr. and Mrs. White are requested to visit us in the school management section as soon as possible to have a meeting with the principal. We advise you to make changes in your attitude and act respectfully towards your teachers and fellow classmates. We hope that you will pay heed to this warning and make amends.
Regards,
School Management.
2-
This is to inform you that you are being issued a warning letter for indiscipline behavior at work. Three of your fellow workers placed a complaint regarding your attitude at work. We were informed that you have been involved in some stealing incident where you deliberately picked some of your colleague's personal belongings and took them with you.
We got a hold of the CCTV footage from that day to confirm their accusations against you and it proved to be correct. When you were confronted about it, you got into a verbal altercation with them and pushed Ms. Natasha with so much force that she fell and hit her elbow on the table.
This is a warning letter to you to let you know that this behavior will not be tolerated at our company under any circumstances. We only issue one warning to individuals who violate company policies after which we terminate their contract and withhold their salary for the month. In light of these recent events, we have decided to issue you this final warning letter.
You are requested to issue an apology to Ms. Natasha for your attitude and make amends. If you are facing any issue regarding the workplace or your co-workers, contact HR so it can be resolved.  
In addition, you are also being fined a hundred dollars to pay for Ms. Natasha's medical bills for the injury that was caused by your push. Also please return all the personal belongings you took from your colleagues at your earliest.
Regards,
Office Management.
3-
This warning letter is being written to inform you that your fight with co-workers is serious misconduct in the company. The company cannot accept any such type of behavior. The company is known for its good reputation because of having the best working environment.
We cannot tolerate anyone who ruins this peaceful environment. Therefore, you are warned to adhere to the rules and regulations of the company.
We hope that such type of misconduct and misbehaving will not be seen in the future. Kindly consider this letter as a formal warning letter.
If you are ever found misbehaving again, the company will have the right to terminate you from the job without prior notice.
Preview and Details of Template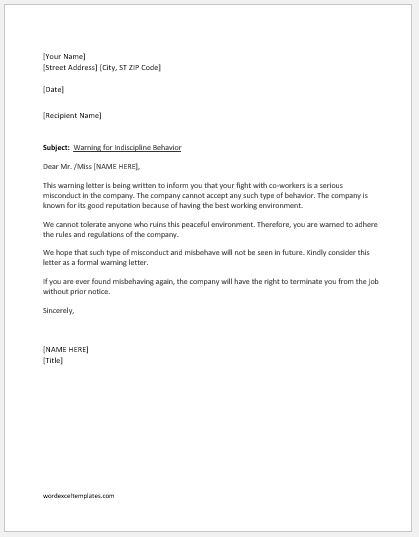 Letter Template
File: Word (.doc) 2007+ and iPad
Size 36 Kb | Download
[Personal Use Only]