When you were intended to meet someone, and he/she did not show up, you can write the no-show letter to remind them about the meeting with you that they had to attend. There are many scenarios in which no-show up letter is written.
When to write a no-show up letter?
You can write the no-show up letter to the candidate who had to come for an interview. The purpose of writing this letter is to ask the candidate for the reason for not being able to show up. Some employers also write show up letters to candidates not attending an interview to let them know that the company has hired someone else who showed up for an interview
If someone has an appointment with the doctor and did not visit the doctor, the doctor can write the show-up letter to ask him why he did not show up.
Sometimes, the company also decides to terminate those employees who did not show up. In such a situation, this letter serves as a termination letter as well as a no-show up letter.
No-show up letter is also used as a reminder letter. Regardless of the reason, this letter should be crafted professionally as it is mostly used by professional people.
How to write the no-show up letter?
The letter should include the subject in it. Adding a subject in the letter makes it easier for the reader to understand your purpose of writing the letter.
The letter should address the person properly. There should be a proper salutation since it is a formal letter.
The tone of the letter should be formal, and it should be written concisely. The letter should not include unneeded details. If you have something detailed to discuss, you can simply ask the reader to show up so that you can discuss the matter in detail.
You can get a general as well as a specific no-show up letter template from here. This template has been prepared by professionals by keeping different scenarios into consideration.
Sample Letter
This letter is to remind you that you had a meeting with our representative at 5 pm dated [DATE] but you neither came nor informed us about your not showing up. We slotted your meeting into our calendar by canceling out some other necessary gatherings on yesterday in the evening. It was disappointing that you didn't appear or communicate in advance to cancel or carry over the meeting.
You must have an idea of how important that meeting is to both of us as we are planning to expand our business together. Everything is finalized except that signature thing that we are going to have in this meeting. So kindly inform me about your free slot so that we can reschedule the meeting as soon as possible to get things done.
Waiting for your prompt reply!
Sincerely,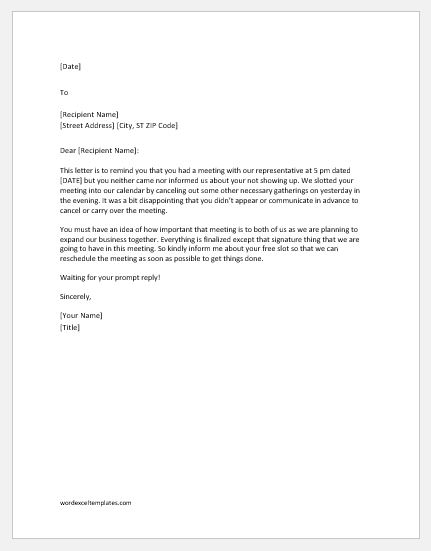 File: Word (.docx) 2007+ and iPad Size 18 Kb |
Download
---