Everyone has a big responsibility of valuing ethics, norms, and behavior both personally and professionally. A cultured person is given respect all over the society. The behavior and moral values are first being learned from the home.
The better the home environment, the most cultured and respectful an individual will be. The words we speak matters a lot to our surroundings.
That is why it is always said that think before you speak. Additionally, patience is an important element while having a conversation. Patience saves us from using abusive language. Thus, this all is resultant of the type of personality one is having.
A workplace is obliged to maintain a polished and refined environment. The environment is achieved through the collective efforts of both the staff and the organization. The behavior, norms, values, respect for each other is very important to keep in view in the workplace.
The good conduct can save one from many unpredicted troubles and issues. Many times, issues arise regarding behavior, conduct, confrontation, and performance.
The HR department deals with such issues of misconduct or confrontations. Some conflicts lead to verbal confrontation. The verbal confrontation is free of physical assault. But, it is focused on a serious note by the HR department.
When a verbal confrontation occurs, a warning letter is issued. This warning spots the witnessed occasion of confrontation. A formal letter works well in this situation. The number of warnings should be mentioned. Some solution approach is also mentioned with a view to being careful in future.
Sample Letters
#1
This has been brought into my notice that you had a verbal confrontation with your fellow employee [INSERT NAME] on [INSERT DATE]. The reason behind this has been stated that both of you were having arguments over political matters in your break time which steered to such a drastic end. The management makes sure on the appointment of every new employee that they read the rules & regulations thoroughly to avoid any such discomfort.
It has been clearly mentioned in the company policy that political discussion in the premises of the company is strictly forbidden. Without taking anyone into account, you used abusive & threatening language & bullied each other in possible worst manner.
Both of you disobeyed the company policy & it leads you to have a half deduction on your salary of one day. This letter is the final warning to you that you must make sure this practice isn't repeated ever again; otherwise, you shall be responsible for an unhappy ending.
#2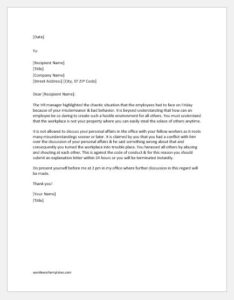 The HR manager highlighted the chaotic situation that the employees had to face on Friday because of your misdemeanor & bad behavior. It is beyond understanding that how can an employee be so daring to create such a hostile environment for all others. You must understand that the workplace is not your property where you can easily steal the solace of others anytime.
It is not allowed to discuss your personal affairs in the office with your fellow workers as it roots many misunderstandings sooner or later. It is claimed by you that you had a conflict with him over the discussion of your personal affairs & he said something wrong about that and consequently you turned the workplace into trouble place. You harassed all others by abusing and shouting at each other. This is against the code of conduct & for this reason you should submit an explanation letter within 24 hours or you will be terminated instantly.
Do present yourself before me at 2 pm in my office where further discussion in this regard will be made.
Thank you!