Rules and regulations are the power and pride of a workplace. A sound following of rules and regulations give peace and harmony at the workplace. And a workplace desires from all employees to meet all the expectations.
All the employees and members at a workplace are obliged to follow some rules, regulations, and procedures on daily basis. These rules can be of any type. They can be for office decorum, leaves and absenteeism, behavior, performance criteria, working hours, dress code, hygiene, ethics and many more.
Failure to follow all such rules leads to warnings. An excessive number of warnings led to eviction. One must not misuse the benefits granted to him/her at the workplace.
The HR department is mainly responsible for all the employees' related rules and policies. One of an important point of concern at a workplace is keeping cleanliness. Cleanliness of the workplace, as well as the cleanliness of one's self. Following a proper dress code by keeping it neat clean and tidy is an important matter.
The dress code criterion is floated to all the staff through their departments. Sometimes, open sessions are also planned to boost the morale regarding dress code and tidiness. If the employees fail to stay neat, they are given warnings. The warnings contain the references to their untidy uniform and the number of times they are found in incorrect dress code. Some references to office policies signed by the respective employee are also mentioned in such letters.
Sample Letters
#1
From a teacher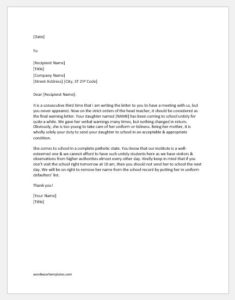 It is a consecutive third time that I am writing the letter to you to have a meeting with us, but you never appeared. Now on the strict orders of the head teacher, it should be considered as the final warning letter. Your daughter named [NAME] has been coming to school untidy for quite a while. We gave her verbal warnings many times, but nothing changed in return. Obviously, she is too young to take care of her uniform or tidiness. Being her mother, it is wholly solely your duty to send your daughter to school in an acceptable & appropriate condition.
She comes to school in a complete pathetic state. You know that our institute is a well-esteemed one & we cannot afford to have such untidy students here as we have visitors & observations from higher authorities almost every other day. Kindly keep in mind that if you don't visit the school right tomorrow at 10 am, then you should not send her to school the next day. We will be on right to remove her name from the school record by putting her in uniform defaulters' list.
Thank you!
#2
From an employer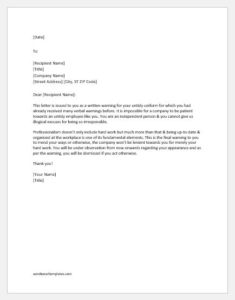 This letter is issued to you as a written warning for your untidy uniform for which you had already received many verbal warnings before. It is impossible for a company to be patient towards an untidy employee like you. You are an independent person & you cannot give us illogical excuses for being so irresponsible.
Professionalism doesn't only include hard work but much more than that & being up-to-date & organized at the workplace is one of its fundamental elements. This is the final warning to you to mend your ways or otherwise, the company won't be lenient towards you for merely your hard work. You will be under observation from now onwards regarding your appearance and as per the warning, you will be dismissed if you act otherwise.
Thank you!