If you are on the fence about starting a new fitness-related business, the best solution for you is to think of some innovative ideas. These days, we can see the majority of people taking care of their health and fitness. They try to remain healthy and fit by exercising daily. Most of them feel fit and more motivated to achieve their fitness goals when they visit a gym.
So, having a gym in the market will convince people that it is a lucrative business and a completely healthy place for those who are conscious about their health. People usually write this letter to those people who they think can be their best business partners and can support them in the best way. 
What is a new fitness gym proposal letter?
This proposal is like a new business plan that you have in your mind regarding fitness gyms. Whether you want to open a gym outdoors or you want to use your home's personal space as a gym, this proposal will always help you outline your ideas.
In this proposal, you tell that you have an idea about opening a new business facility in an area and then you tell everything that may come to the mind of the reader after reading this unique idea through the proposal letter.
What does a perfect fitness gym proposal letter look like? 
It is obvious that if you want to achieve something out of the proposal letter that you write after spending so much time on it, you will have to draft this letter in a perfect way. A perfect proposal letter should be able to answer the following questions:
What are your intentions?
As soon as you start the letter, tell the reader immediately that you want to open a fitness facility for fitness freaks.
Who will open this?
Give your details and also briefly explain your team and expertise that will show that you are someone who only has an idea to give but someone who has done complete homework before writing this proposal. For instance, you can discuss how many professional trainers you will provide to the gym and what impact it will have on the business. 
Where do you want to open it?
Here you will tell whether you want to start the gym business outdoors or indoors and whether you have any other place in your mind where it would be better to start a new fitness business.
Why do you want to start this business?
After reading this proposal letter, the reader would like to know what your motive is behind starting this business. So, be clear about it and make sure that you have a strong reason to give if you want your proposal to be accepted.
What are the main sections of the gym business proposal letter?
Those who write professional letters often divide them into various sections and then work on every section one by one. Every part is taken as an individual that needs separate attention and then it is your job to decide how long your letter can be. The new gym business letter is generally divided into three main sections. 
Section 1:
The first section of the letter starts as soon as you start writing the body of the letter. This section is based on all the Introductory details. Make sure that when you finish this section, you have already provided your details, the details of your company, and your purpose for writing this proposal. 
Section 2:
In the second section, you can think of making your proposal convincing for the reader by discussing all the potential benefits that people will have. The benefits to the reader should also be discussed in this proposal letter. Here, you can mention how much money you can expect the fitness gym to make and what potential impact it can have on the financial lives of both parties. 
Section 3:
In the last section, you close the letter by providing your contact details and letting the reader know that you will look forward to the response. Make sure that you close this letter positively because it is the closing of the letter that everyone remembers.
Letter #1
I am writing to present an exciting opportunity to you for investment in the fitness industry. I would like to establish a new fitness gym in Bahria Phase 25, Islamabad. With my expertise in this field and your financial support, I am confident regarding the success of this venture.
The fitness industry is growing at a steady rate. According to a survey I conducted earlier this year, 70% of male and 43% of female individuals in Islamabad visit a gym to accomplish their fitness goals. This shows the market demand for a gym in this area is huge. In addition, the specific area I mentioned above has no gym facility at the moment. People have to travel to farther areas to visit a fitness gym.
Keeping the above factors in mind, we can avail this opportunity to embark on a profitable business venture. It is a promising venture owing to its high demand.
Please let me know your opinion about my proposal. I can discuss more details about my research and the possibilities of a successful business if we team up.
I eagerly look forward to hearing from you soon.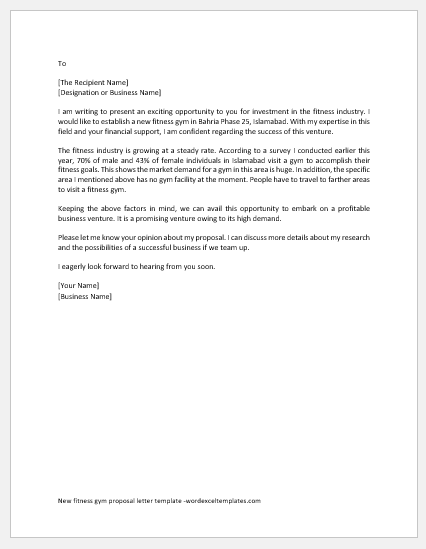 #2
I am excited to make a business proposal for a new fitness gym. I would like to join hands with you for this venture. As a team, we can conduct a profitable business in the fitness industry.
My vision is to establish a state-of-the-art fitness gym with the latest equipment. We will hire the best trainers along with health experts. We will also provide facilities and expert instructors for Zumba dance, yoga, and aerobics.
With the above-mentioned facilities and equipment, our fitness gym is certainly going to beat the competition. Indeed, this venture seems extremely promising and lucrative.
I am eager to discuss more ideas with you regarding this proposal. Please let me know when you will be available for a meeting.
I look forward to your response.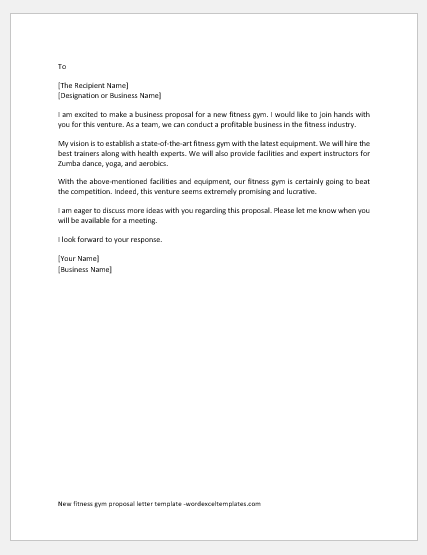 See also: