Letter #1
Re. Justification and Explanation of the Reasons behind Keeping Firearm in the Car as Mentioned in the Challan Form 70L91

Dear Sir, I am Stanford Luc Hamsten from the Spring Leaf Town of Meghan Market Area, Summit, Union County New Jersey, USA. I am writing this letter to justify and explain my reasons for keeping weapons along with me in my car. I am writing this with reference to Challan Form no. 70L91 with car no. CAU-9934-19.
On 07th February 20XX, I was stopped at the Sheets checkpoint near Meghan Market in the city of Summit by the local police officer it was a general checkpoint where all the cars were getting checked and I was not another case. During the checking and inspection, cops found a pistol which was an MM-3 from Roosevelt's Weapons and Machinery Action-aid with serial no. 931-9D and CMI no. 3f3-002.
The cops without considering any explanations and reasons registered a challan against me (challan no. 70L91). Please find the copy of the challan enclosed. Then I was taken to the Police Station for further investigation and have been bailed out on a temporary basis of two days.
I am writing to you to please look into the justification for the possession of the weapon. I was having the pistol for my self-defense due to the rapid growth of crime and larceny. I had confronted a couple of incidents of thievery and intimidation in the last few days. I had concealed the weapon under the driver's seat not to conceal it from police but from the eventual confrontation with thieves or likewise.
Please consider my above-mentioned explanation worthy and honest and look into this matter personally. I belong to a respectable family and own a respectable designation in a private firm. I have no burden of criminal record ever in history. I shall be very grateful and obliged to you if you take my justification into account and respond positively.
I am available for any investigation/inquiry related. My contact number is +1[X] and my email is [X]. Please find copies of all the required documents enclosed. Thank you.
Regards
Stanford Luc Hamsten
9-C The Spring Leaf Town
Summit, Union County of New Jersey, USA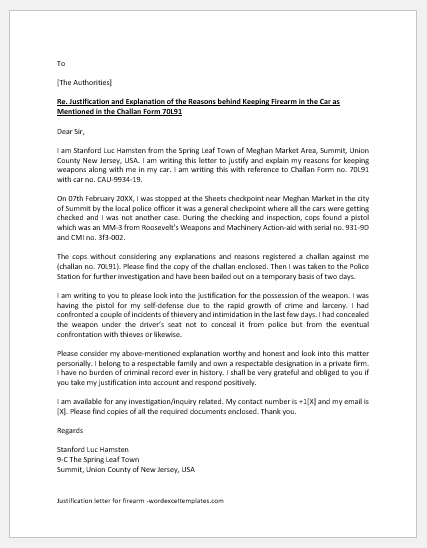 Letter #2
Re. Explanation and Justification of Keeping the Firearm Illegitimately and Mistakenly without License
Dear Madam,
This letter serves as a justification and explanation of the Ray Lord Case with ID no. 9820.
I am Noah Friar from the Minford Lake Road California, USA. I was on my way back from a party at 2:00 AM on 05-02-2021. I was having a sharp cutter in my car which remained in my car out of forgetfulness and negligence. I used the cutter for some paperwork and carton unsealing. I visited the packing department on 4th February 20XX, that is why I had this sharp cutter remaining in my pocket.
While sitting back in my car, when I realized the sharp edge of the knife in my pocket, I threw the cutter in the back seat of my car. It was totally negligent and I was unconscious of the gravity this small cutter might bring. On the check post, while being checked, the inspector got the cutter from my car and registered a complaint against me under section 13-706.
I have attached the affidavit with this letter along with copies of all the required documents including my business ID, national ID, and proof of residence. More can be provided on demand. I have also shared the details of my lawyer who is assisting me through this. My contact no. is +[X] and can be accessed at any time you have any queries. I am hoping for great cooperation from you. Thank you.
Regards
Noah Friar
30-A F-9, Sector B,
Minford Lake Road California, USA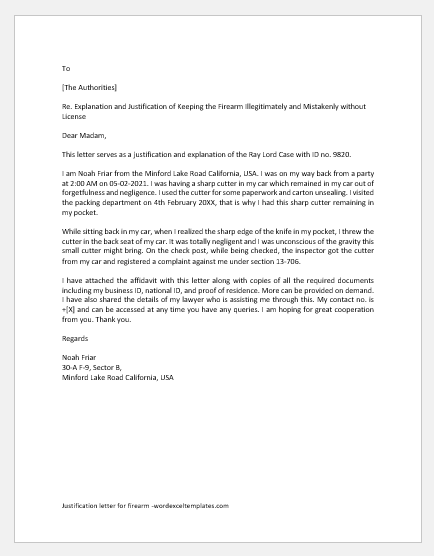 See also: