The workplace is restricted to a lot of rules and policies. It is always a strict order to follow all the rules and regulations. Both ends need to be cooperative. Thus, cooperation from the staff as well as the administration gives a friendly work environment. Additionally, all the companies and organizations strive for a good reputation and good revenues. This all can be achieved with cooperation and teamwork and a friendly environment.
All the workplaces have dedicated car parking, café, sickbay, etc. All facilities provided in the workplace are working under strong supervision and tangible records. The employees or staff of a certain workplace needs their specific identification to avail all these facilities. The specific identification makes everything easy for both the management and the staff.
One important factor that employees must care about is their ID Cards. All workplaces issue ID Cards to their staff. It is good for distinction as well as safety and convenience. It is strictly ordered in a work environment to all the employees for wearing ID Cards. Usually, announcements are done through letters to all the members or employees in a workplace to wear ID Cards. In such cases, good cooperation is always needed from all the employees in the workplace.
When the management informs the staff about the strict policy of wearing ID Cards; they need to provide the concerning details. They need to inform if any specific way is determined. The last date must be given in case of those whose ID cards are not being made or in process.
Letter #1
I hope everyone had a great weekend.
It's a new week and we would like to make a start with new inspiration. We always take pride in our employees and the quality of work that they deliver. We are glad our employees are following all the rules and procedures that we set. However, we seem to be a bit disappointed with people not wearing their ID cards at work.
We all know that no one likes carrying their ID all the time. But we would appreciate it if we can set a precedence of wearing ID cards during the working hours. This will help us maintain our individual identity and look more professional. Please let us know if anything concerned.
With thanks
Letter #2
It is the policy of [COMPANY NAME] that every employee must wear an identification card issued to him/her for the designation s/he works.
We at [COMPANY NAME] make sure that employees obey workplace policies to strengthen the professional environment. In case you have any issues regarding your ID badge please contact Mr. [XYZ] at your earliest.
Letter #3
The supervisor of building-E Mr. Shafquet has reported that many employees are not wearing the employment id badges despite being given several warnings.
It is to mention that every employee must wear the employment id badge during his/her stay at work. A spot visit will be made by the manager Mr. [XYZ] in the coming week. If an employee is found without carrying his/her identity card serious disciplinary action will be taken against him/her.
It is our responsibility to obey the workplace rules and regulations.
Preview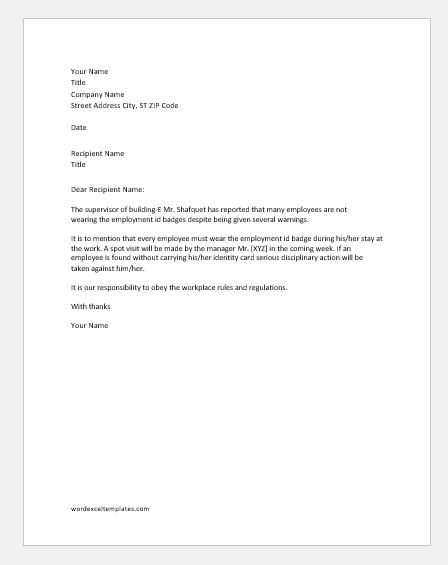 File: Word (.doc) 2003+ and iPad  Size 32 Kb |
Download
[Personal Use Only]
---
Letter #4
Dear staff, this is to update all of you to please note to carry their identity cards. It will benefit the management to give diverse identities to affiliates. Furthermore, all the fresh staff members should bring a transitory ID card with them. Hence, we implore you all to carry it without missing the mark.
The executive is beholding a good collaboration from the personnel and adherents. The firm has similarly prepared an exacting imperative to transmit identity cards every day to the workplace. Mislaying or not bringing the ID card will affect in designing as absent for all the workers. Our Board is constructing these firm guidelines for the security and persuades the staffs and management. 
Anyone engaged at for more than half of a year must have their own employee ID card with their name, image, date of birth, and signature. The card is generally dispensed on the first day at labor and should be reintroduced every two years. People with a dissimilar sort of association to the company can gain non-personal passes as allowance.
It is being hoped that all of you will follow the above-given instructions without any flop. As nobody wants a laborious but unpaid day anyway.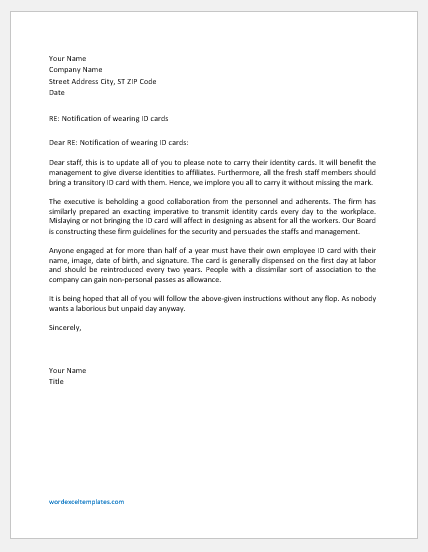 File: Word (.docx) 2007+ and iPad Size 29 Kb |
Download
---