Any kind of goods and services can be availed using the money. Money is an asset of an individual. This asset must be kept safe. The best way to keep it safe is through banks. In banks, people can save money, borrow money and invest money. Banks serve as a medium of exchange between supplier and consumer. One can easily send and receive money through banks instead of keeping cash in hand.
Sending and receiving are done based on debit and credit in banks. The terminologies of debit and credit are quite complex in the huge web of accounts. These accounts can be of a single person, a company, or an organization. All-day long, millions of transactions are being done everywhere. The banks are the only places serving as a backbone on behalf of all the transactions.
Chances of errors always exist in the workplace. Sometimes system errors lead to wrong transactions. Sometimes typing errors lead to wrong transactions. Moreover, sending and receiving are done twice as a mistake. But all these errors are those which can be corrected. That is why the workplaces keep records of all kinds of stuff being done. The records are much useful in terms of errors.
A debit note rejection letter is written if the debt requested is incorrect according to all the information and data of the relevant person. In this letter, the details of all the invoices and debit credit entries must be mentioned.
#1
Dear Mr. [name]
Subject: Debit note rejection for [X]
We had supplied a shipment of canned food consisting of tuna and sardine cans on [date]. The shipment reached your warehouse safely and on time and the warehouse manager signed the confirmation. However, on [date] we received a debit note from your side stating that 50% of the cans were damaged and hence you were demanding a refund. The shipment was received by your manager on duty as can be confirmed from his signatures on the receiving form. The cans were most probably damaged during unloading.
According to the contract, damage done during the loading is not our company's responsibility. We hereby reject the debit note. We are attaching the document signed by your duty manager confirming the safe arrival of the goods and since the handover was complete, the company cannot be held responsible for any damages that take place after that. Please look into this matter again on your own end.
Looking forward to your understanding and positive response.
Yours Sincerely.
#2
Dear Mr. [name]
Subject: Debit note rejection as [X]
We purchased sanitary and washroom fittings from you for our new project [name]. All the payment was done in advance and our bills were clear. After the last delivery was made yesterday, our manager was handed a debit note by your delivery in charge and upon inquiry, it was revealed that since during this period the prices have gone up so we are being charged for the difference.
This is unethical as we are only going to pay the amount we agreed on at the time of the contract which clearly states that any changes in the rates made afterward would not affect our deal. So we are rejecting the debit note.
Your claims of underbilling are baseless and unacceptable as the rates we agreed on were paid by us. Any changes that happened afterward would not affect the deal between us as clearly stated in the contract. We are attaching a copy for your consideration. Please look into this issue. We did not expect such unprofessional demand from a company of your stature and name.
Looking forward to your consideration.
Yours Sincerely.
Debit Note Rejection Letter #3
Dear Marg,
Hope you're doing great.
The new autumn collection has just arrived, and it looks amazing. We are so excited to fill our boutique with these beautiful pieces. While unpacking, we came across the Anya linen shirt, which seems to be ripped from the sleeves. The price for this shirt is $35.33.
Could you please issue us a credit note against this item? If not, then could you please issue us a revised debit note. I am attaching a picture of the item for your review. Please let us know should you want us to return/send the item back.
With Thanks
Laura
Preview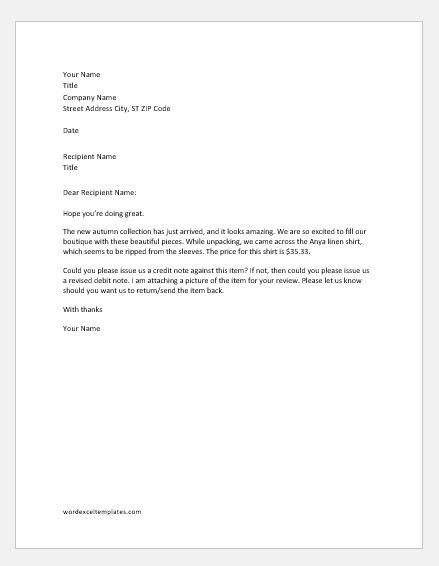 File: Word (.doc) 2003+ and iPad 
Size 63 KB. [Personal Use Only]
See also: