Employees' medical leaves can be for different medical issues. They can be maternity leave, sick leave, leaves due to any major injury. All these leaves are kept as tangible records. Such leaves are important when an employee becomes medically able to rejoin his duties.
When the medical leaves are about to end, a proper working is done by the employer and employee both. The employee has to request his/her medical fitness certificate from his attending physician. This certificate is a must part of the return to work letter. It states that the employee is able to work. And it also states about the further treatment which is still going on. And the employee's capability about how much he can perform.
Furthermore, the employee must feel comfortable before sending the return to work letter. He should feel ease for taking only those duties that he can medically perform. He should not go for giving the best on the spot. He can talk to his supervisor for any amendments he wants in the work schedule. The official procedure must be done thoroughly to bring accuracy.
One must be honest about his medical health when sending a return to work letter. The letter must contain the whole details about the decided time of his medical leaves. This letter must be sent some days before the end date. The medical approval certificate must also be most recent. This can give time to the employer and employee both for completing all the paperwork and formalities that are important.
The Letter#1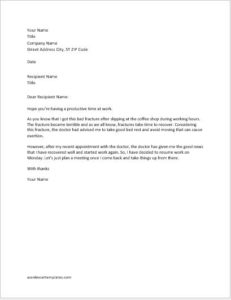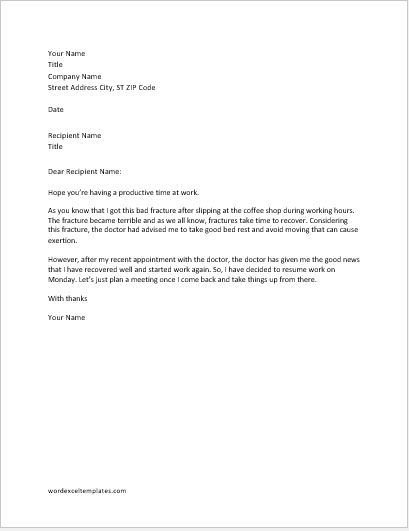 Hope you're having a productive time at work.
As you know that I got this bad fracture after slipping at the coffee shop during working hours. The fracture became terrible and as we all know, fractures take time to recover. Considering this fracture, the doctor had advised me to take good bed rest and avoid moving that can cause exertion.
However, after my recent appointment with the doctor, the doctor has given me the good news that I have recovered well and started work again. So, I have decided to resume work on Monday. Let's just plan a meeting once I come back and take things up from there.
With thanks
The Letter#2
Hello Peter
Last Friday I met with my doctor who performed several medical tests. The tests reports have come to show improvement in my knee injury. The updated medical report is attached to this letter.
I am writing this to inform you that I can start the office on Wednesday, April 15th. The knee condition is stable, and I can continue work without much difficulty. The doctor has prescribed me medicine and some exercise to recover quickly. Can we have a meeting on Monday/Tuesday to schedule things in advance?
Please let me know at your convenience.
With Thanks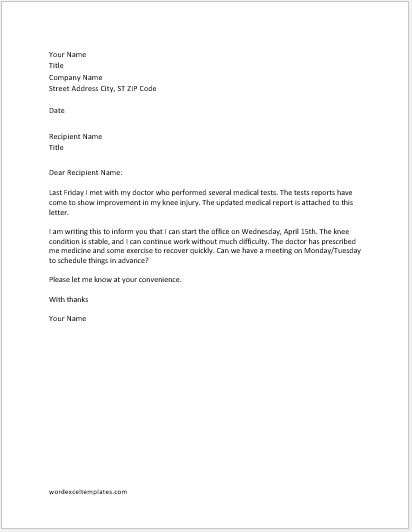 The Letter Template
File Format: MS Word
Size: 23 KB | Download
---
Letter Rejecting Holiday Extension of an Employee and Advising Him to Return to Work
Dear Becky,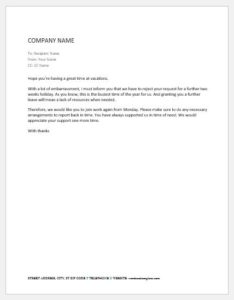 Hope you're having a great time at vacations.
With a lot of embarrassment, I must inform you that we must reject your request for a further two weeks holiday. As you know, this is the busiest time of the year for us. And granting you a further leave will mean a lack of resources when needed.
Therefore, we would like you to join work again from Monday. Please make sure to do any necessary arrangements to report back in time. You have always supported us in time of need. We would appreciate your support one more time.
With thanks