An individual's way of perceiving the things is a vital part of his personality. Personality reflects the behavior. Furthermore, an individual is always judged by his behavior and reaction towards the happenings in the environment. Moreover, the way of talking also reflects one's personality.
The habits of a person define the type of personality he has. A careful person has an influential and cultured personality. A careless person has a dull and terrible personality. Such kind of personality is always a trouble for the person himself and his surroundings. Such individuals are always expected to do mistakes just because of their carelessness.
A workplace has many ethics. The employees are morally obliged to be careful about how they come along with others, how they interact with others and how they communicate with others. An employee is obliged to perform his duties honestly and diligently. He should be valuing the desired purpose of his job. An employee can keep his integrity by performing the assigned duties wholeheartedly. By this way, he can keep a good image of himself.
Occasionally, it is seen that employee's conduct and carelessness leads to many losses. Such losses can be of any type. Sometimes, it affects the work environment, sometimes it affects the reputation, and it can also give a big defeat to the profitability. In such cases, mostly warnings are given. But in severe cases, employees get a suspension letter. Such letters contain the severe reasons and detail of the serious action.
Suspension of an employee on carelessness
Dear Antonia,
We are a company who has set high standards in the industry in terms of ethical and standardized working. We have always made a point to stay in line with the new technologies and keeping a focus on employee development. You have been one of the best employees we had in the last two years. We have seen you grow and perform well in anything handed to you.
I have received an email from your team lead just today. He has mentioned work discrepancies from your end. This is very disappointing for us. Finance is a very critical department and requires a lot of hard work and diligence. Your careless attitude has resulted in a suspicion on everyone's end including myself. Therefore, we have decided to suspend you for 2 weeks.
I am sure you will be aware of the suspension policies. If not, you can contact James to know your rights. Just to confirm, we want to investigate to make sure no money laundering has occurred. You will be paid for this suspension period. As the investigation has not started yet, we would like to inform you that it can take more than two weeks. During this time, you can stay at home. We will be informing you regarding the findings of the investigation.
Further actions will be dependent on the investigation report. During this time, we would advise you to focus on personal improvement and building on your strengths which will help you strive in the corporate world.
With thanks
Preview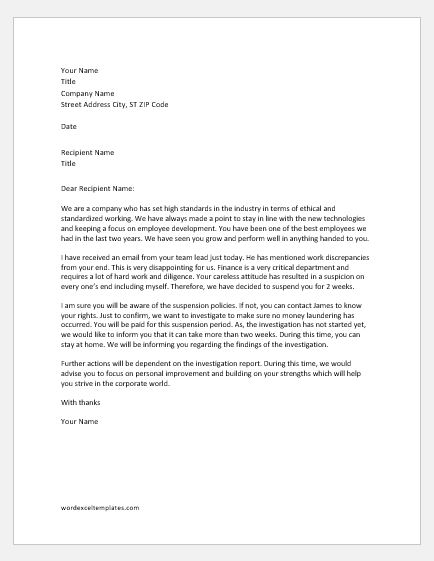 File: Word (.doc) 2003+ and iPad 
Size 63 Kb | Download
[Personal Use Only]