#1
Re. Appealing for the Standard Disciplinary Actions to be Commenced on the Grounds of Company's Employees' Conduct Policy 2011
I am Daniel Swan from the Department of Web Designing and Development. I have been working here since 20XX as a web developer. I have always been a hardworking and competent employee, and I have assisted in winning many projects during my tenure. The ambiance of the workplace has been very pleasant and immensely professional. I have enjoyed working here and have learned a lot of new skills and acquired new knowledge in the field of web development. I am writing an appeal letter to you to take strict disciplinary action against Mr. Lowman.
On January 23, 20XX, Mrs. Jennifer Nelson reported that she was harassed by the mentioned person several times and is not abstaining from the misdemeanor even after being warned by the sufferer. She warned him that she would complain about this to the management, as workplace harassment is a serious offense.
Lowman did not pay heed to her warnings and kept harassing her in every possible way. At last, Mrs. Nelson reported this to her supervisor, who furnished Lowman with a reprimand notice, which did not meet any improvement in his conduct.
I got into an argument with Lowman on 10-02-20XX while talking about the web designs and their approvals. Lowman works in project management; therefore, it is unavoidable to communicate with him when it comes to workplace stuff. As a result of that argument, Lowman started abusing me, and then I pushed him. He punched me in the face, and it started bleeding. CCTV footage can be examined as convincing evidence.
Having all this said, I plead with you to take strict disciplinary action against Mr. Lowman so that no other member of the company can do the same. The Federal and State Government Laws of Public and Private Companies of 2009 state that no employee can be accommodated by such a code of conduct. They include salary deduction, demotion, reduction in perks and privileges, or termination, depending on the gravity of the matter.
Please contact me for more details on +[X] or write to [email protected].
Regards
Daniel Swan
Web Developer
Department of Web Designing and Development
Rodrigo Lexlie Groups and CO
 Y-19 Sector OP Center, San Diego
California, USA.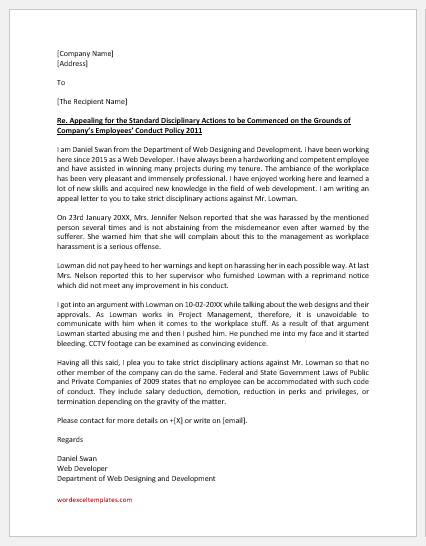 File: Word (.docx)
Size: 21 KB
#2
Re. Pleading and Appealing for the Consideration of Disciplinary Actions against Mr. Krupat Nelson based on Breaching the Entrusted Confidentiality
Dear Sir,
This letter has been penned to plead for strict disciplinary action to be commenced against Mr. Krupat Nelson, who has been the assistant project manager since 20XX. He has been working in the Project Analysis and Project Development wing since his joining. He has proved himself to be an industrious and competent employee but has failed to meet other professional requirements. Therefore, as a member of Project Management, I justify and appeal to him to take up severe and uncompromising disciplinary measures against him.
Sir, to work in project management comes with a huge responsibility of confidence because project management has to work as a strong team and have all the information about the contracts, projects (upcoming and ongoing), and complete details of the economic status of the projects. Mr. Nelson has been charged with breach of entrusted confidence and for revealing important information to rival groups and companies by taking a sum of thousands of dollars.
The proofs have been acquired, and Mr. Nelson has repudiated all the proofs by claiming that it is a conspiracy to charge him with this offense and a gambit to demote him or get him a termination. Moreover, he could not disapprove of many points of the proof.
The company's policy on the Employee Code of Rights and Duties states that such an act is immensely condemnable and completely unacceptable. It is not safe to keep Mr. Nelson in the workplace at such a significant designation, as the matter has caught the attention of the media and contemporary companies. If the matter is not addressed, it will bring reproach and disgrace in the contemporary world to the company.
Therefore, I request that you consider possible disciplinary measures against Mr. Nelson so that no other staff member can move in this direction. Moreover, I plead with you to reconsider and revisit the procedure of penalization in cases of breach of entrusted confidence or revealing important information.
I thank you in anticipation for considering my appeal. Please write to me for any further at [email].
Regards
Oliver Smith
General Manager
Mega Encore Electronics
J-30, Sector J/5D San Diego,
CA, USA.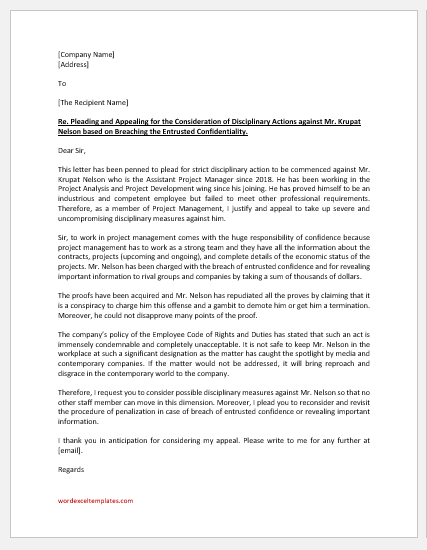 File: Word (.docx)
Size 23 KB