Subject: Apology for not Joining the Company
First, I would like to thank you for your consideration. I received an email from your company to confirm that I have been appointed as an Assistant to IT Officer in the department of Planning and Development in the technical services wing. I am overly excited to know about the confirmation received. It was one of my greatest desires to work in the [name of the company].
However, I am sorry to tell you that I am unable to join the company at the moment. I am a foreign resident currently living in the [country]. Our foreign office has some reservations about renewing visas due to internal conflicts in the Immigration and Passports Services Office (IPSO), [country]. I have requested them for the speedy processing of my application but due to internal squabbles and recurring conflictual issues, they are unable to process my application.
I do not want the company to suffer and wait for an employee for a long time to join. However, if the work can be done remotely for three to six weeks, then I can join the company.
I am sorry for the inconvenience caused. I will be grateful if you let me know of your decision as soon as possible. Thank you for your kindness.
Please find attached my letter of appointment and email of confirmation.
Regards
[Name]
[residence]
[date]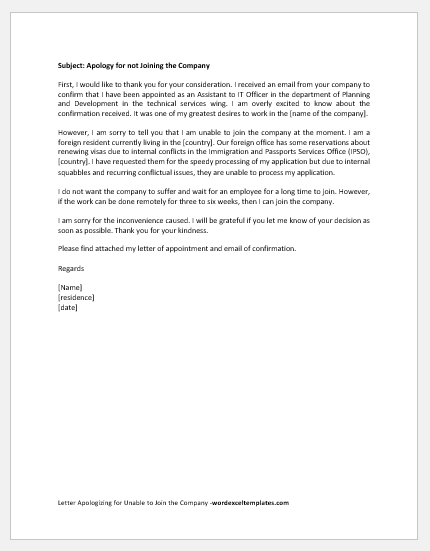 2.
Re. Apology for Not Joining on the Said Date
To whom it may concern,
I am [name], a resident of [address, city]. I applied for the position of [name the position you applied for]on [date]. I was interviewed on [date] and selected not for the advertised position but hired as an Assistant Marketing Manager. The advertised vacant position was Project Manager. The recruitment team, looking at my previous work experience and skill profile, recruited me as an Assistant Marketing Manager.
I want to change my career line from marketing to project management. Therefore, I studied project management and business development after doing my master's in marketing and development strategies. I believe I can flex the best of my capabilities if I change my career line and pursue project management.
I am of the thought that if I start my career again in the marketing association and marketing development, it will cause another delay in pursuing project management. My priority is getting to the line of project management and remuneration and prerogatives are secondary to me.
Therefore, I apologize for not being able to join this job. Your company is one of the leading organizations in the construction and development sector. I always looked forward to working with this organization. I want to let you know that the only cause behind not joining is my wish to stay in project management.
Please consider me if you find any vacant position in the department of Project Management in the future. It will be an honor for me to join your company. Thank you.
Best,
[Name]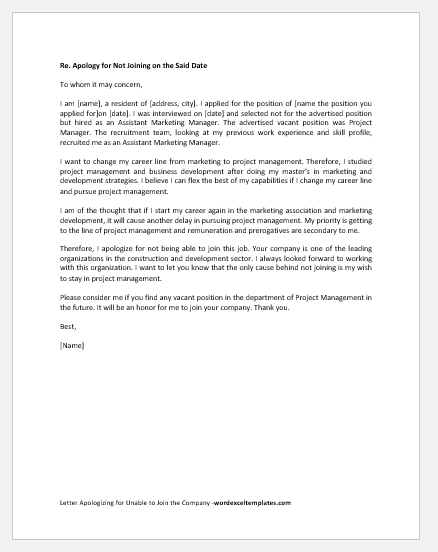 See also: