We often apply for different jobs to seek a better opportunity and feel happy when we learn that there is an opportunity knocking at our door. At the same time, when we get an offer from a company to join it, we often realize that we cannot join it. In this situation, we need to turn down the offer gracefully.
What is an apology letter for not joining the company?
The apology letter is written to the company to gracefully say no to the offer a company has made. This letter is written with the realization that getting an offer from a company is a great opportunity and you feel sorry to turn it down.
Why do people write sorry letters for not joining the company?
There are certain situations in which you don't accept the offer. Some of the common reasons are:
When you come to know that you have to move to another city for a new job and you cannot do it right now.
When the pay package is not in accordance with your demands and you don't want to negotiate
When your current employer has convinced you not to leave the company and you decide to not switch jobs. 
You may want to write a letter in many other situations also. Think carefully and draft a letter in a professional tone.
Tips for writing an apology letter for not joining the company:
You need to be very careful when you write this letter because no one wants to close the doors in the future. Here are some best tips to follow:
Proofread the letter carefully:
Although you are informing the reader about your decision to not join the company, you also want to appear as a competent and professional person. For this, you are required to be perfect in your writing. There should not be any spelling mistakes because your letter will not impress the reader. 
Inform the reader about your decision:
Recruiters usually wait for the candidate they have offered a job. So, you should inform them as soon as possible and don't put them on hold. Write a clear statement that you are not joining the company. You also state the reason for not joining the company.
Write an apologetic statement: 
After you have informed the reader that you are turning down his offer, you should make him know that you are feeling sorry for rejecting the offer. You must keep this fact in mind that you will cause inconvenience to the reader when you tell him that you are not joining. The company will have to consider other applicants for the job. 
Remain formal:
When you write a letter in the professional world, you have to remain formal. You should learn to write this letter in a formal way. Your choice of words should be right. Also, make sure that tone is courteous.
Show gratitude:
It is very important to show thankfulness to the reader who has found you as a competent individual and offered you a great job opportunity. Showing gratitude also shows that you know how to appreciate people in the professional world.
If you fear that the reader might find it a little rude that you rejected the job offer, being thankful in the letter will have a positive impact on your professional relationship with the reader. Another way to show gratitude is to tell the reader that you are looking forward to some more opportunities to work with the company that has offered you the job. 
Try to remain focused:
Formal letters are usually more focused and precise. A letter remains precise when you stay focused and don't lose track. The best strategy is to make a rough outline of the letter first so that whatever you mention in the letter circulates the main purpose of writing the letter.
Follow the template:
These days, it is very easy to find a ready-made letter that you can customize and make in accordance with your situation. The template helps the user in formatting the letter and it also makes him learn how to communicate the decision of not joining and then apologize for it.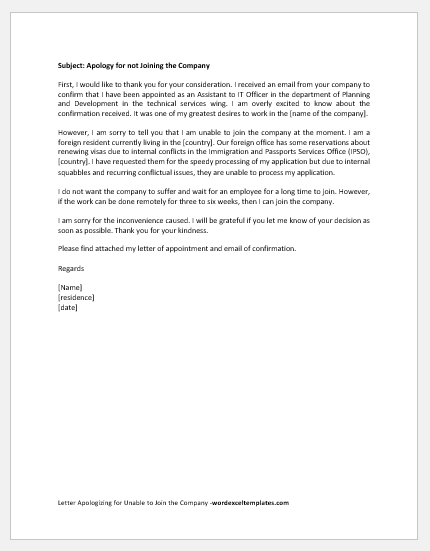 Letter File: 88 KB
Letter File: 90 KB
See also: