Gyms
A gym is all about your fitness and good health. You can get your body in shape when you regularly exercise in a gym. Before you join a gym, you will have to fill a registration form that will ensure that you are now a regular member and visitor of the gym and you are eligible to get all the facilities available in the gym. Getting the information of each visitor is also very essential for the security of the gym.
Registration Forms
When you own a gym or a fitness center, you may want the visitor to get registered to it. If you have planned to organize any event in your gym for the promotion of what it offers, you can ask people who want to attend the event to complete the process of registration. The registration to the event starts with the gym registration form which is provided to everyone whoever wants to attend the event. In the absence of gym registration form, you must do a lot of paperwork which would be very time taking. The use of registration form simplifies everything.
Gym registration form is a simple document which is used to collect the information about all the people who want to join and start some physical fitness program. The information that is provided by the people is kept in a well-organised database that can be accessed anytime.
Gym registration is also used by those people who want to join the gym on regular basis. There are lots of offers and schemes which are offered by the management of the gym for its regular visitors. The regular visitors are asked to fill the form before getting all the benefits being provided to the members of the gym.
For New Setups:
If you have opened a gym and now you want the visitors to get registered to it, you will have to use a gym registration form. You can also prepare a form for yourself. The form that you have to create for you should be able to collect all the information about all the visitors of the gym. There is no specific format associated with gym registration form. You can jot down all the details of the form according to your needs. Make sure that you organize the fields in such a way that it can give a professional look.
Using Templates:
If you want to save your time and money, you can get a template of gym registration form easily. These templates are easy to use and can be customized conveniently. The main details which are included in the form are the name, contact information, date of birth, gender, type of membership, time of visit etc. You can also ask some questions in the form about the past experience of the visitor related to a gym. The visitor should also be asked if he/she needs the instructor. The medical details of the person should also be collected through the form.
Preview & Details of Template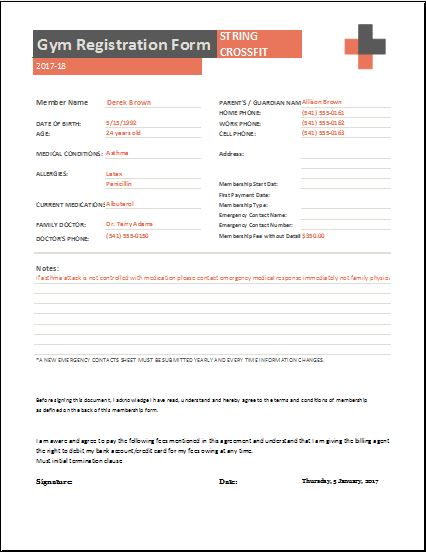 Gym Registration Form Template-1
File: Excel (.xls) 2003+ and iPad
Size 64 Kb   | Download
File: OpenOffice (.ods) Calc [Cal]
Size 13 Kb   | Download
License: ENERGY   (Personal Use Only)
Distribution by Kate Elizabeth(CEO)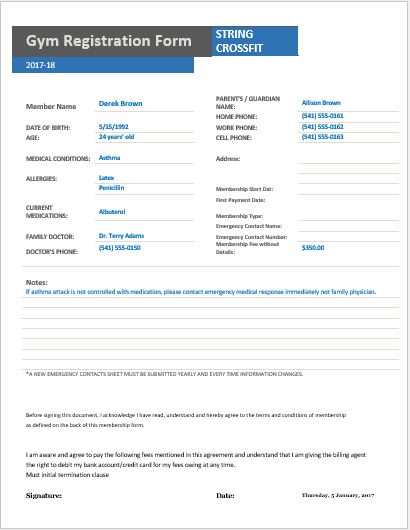 Gym Registration Form Template-2
File: Word (.doc) 2003+ and iPad
Size 92 Kb   | Download
File: OpenOffice (.odt) Writer [Cal]
Size 13 Kb   | Download
License: ENERGY   (Personal Use Only)
Distribution by Kate Elizabeth(CEO)