Formal Way of Product Order
Traditionally, the orders by customers are placed on a phone call which is very non-professional behavior. Product order forms are used by many companies to facilitate their customers while placing any order. A well-designed product order form can entirely change the overall outlook of your business. Usually, the customers are provided with the form to place their order because it only requires them to fill the fields which are necessary if they want their desired products and services get delivered to them on time. Those customers who want to buy the products in bulk can also use this form. There are many businesses which use the order form on regular basis. The customer can keep tracking his/her purchases through the use of this form.
Main elements of the form include:
The detail of the product to be ordered
The quantity of the product to be ordered
The date on which the order was placed
The date on which the order should be received
Price of the product per unit
The net price of the total purchases
Complete description of the product
If you have made purchases earlier, you may get a voucher for free shopping. There is also a field for adding the voucher code in the form.
The address and complete contact details of the buyer placing the order for the product.
The mode of payment
Many people don't believe using the order form since it takes some time in filling them, however, filling the product order form is a very professional approach and it also becomes a record of the transaction between the seller and the buyer. The seller, after receiving the order sends an invoice to the buyer containing the total price of the product which the buyer has to pay.
If you have a large business in which you have to deal with the number of purchase order placed by your customers, you may be in need to keep everything organized. The orders can be organized by using this form. Any business can face lots of problems while dealing with multiple orders in the absence of product order form. Sometimes, the buyer does not get the desired product because not having the order in writing. Usually, the businesses operating on large scale use this form however, a small business can also use.
About Template
Product order form template is very effective and useful for those people who don't know much about the contents of the form. In order to use the form on daily basis, you can download it and can edit it according to your own needs. There is no specific format to be followed while designing the form and you can also get the template in different formats. It makes the process of buying and selling quite manageable. The templates can be obtained with all relevant details such as order description, the total price of order, shipping methods and mode of payment.
Preview & Details of Template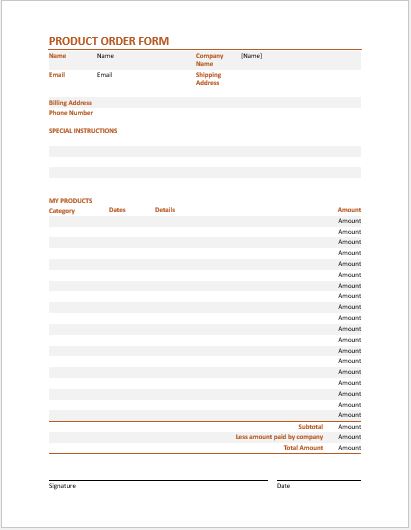 Product Order Form Template
File: Word (.doc) 2003+ and iPad
Size 105 Kb   | Download
File: OpenOffice (.ods) Calc [Cal]
Size 13 Kb     |  Download
License: ENERGY   (Personal Use Only)
Distribution by Kate Elizabeth(CEO)