Personal details form for the patient is given to the patient to fill when he comes for the first appointment with the doctor. The purpose of using this form is to collect all the information about the patient. Some medical details are also obtained from the patient which can be helpful to the doctor for treatment. The patient personal details form contains the detailed information about the personal health history of the patient, personal contact details. Other relevant details such as symptoms of the medical problem of the patient are also included in the form.
The main details which are included in the form are:
Name of the patient
Date of birth of patient
Marital status
The date of examination of patient
Address and contact details
The health issues of the patient
The response of patient to the medication
The date on which the patient arrives the hospital for the treatment.
Patient personal details form is a very important document which is being used these days in almost every hospital. It has been found to be very useful and practical during the practice of the doctor. The main purpose of using this form is to record the medical condition of the patient with complete accuracy and precision. The doctor can easily get the information about the medication which the patient should be given.
The form is useful for a doctor to get information about the patient prior to her visit. He can then easily prescribe different types of medicines required by the patient. Different outcomes of the medication on the patient are also anticipated with the help of this form.
There is no specific format for the form to be used by any doctor. Doctors can also prepare their own form with the format of their choice. If they want to save their time, they can use the readymade template available on the internet. These templates are easy to use and can be customized according to your own needs. There are lots of editable fields in the form. These fields can be modified when the doctor wants to change anything in the form. If the doctor wants to add the name of his clinic, the template allows the user to bring this change.
The patient personal information form can be filled by anyone closely related to the patient. If the patient is having a serious emergency, the management of the hospital may ask the close relatives or friends of the patient to fill the form. The form is usually required to be filled when the patient is admitted to the hospital. In some hospitals, this form is also known as admission form or patient registration form.
In some cases, the hospitals also admit the patients without getting this form filled when the patient is brought to the hospital in unstable condition and wait until the patient comes back to stability.
Preview & Details of Template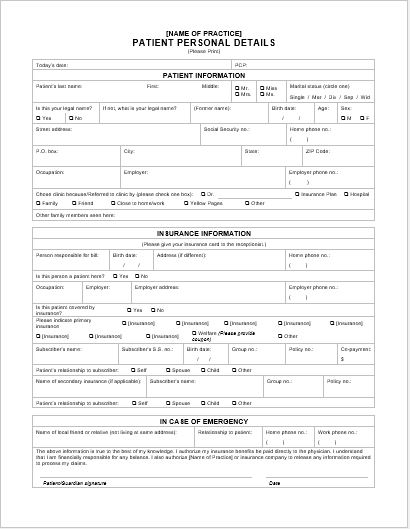 Patient Personal Details Form Template-1
File: Excel (.xls) 2003+ and iPad
Size 64 Kb   | Download
File: OpenOffice (.ods) Calc [Cal]
Size 13 Kb   |  Download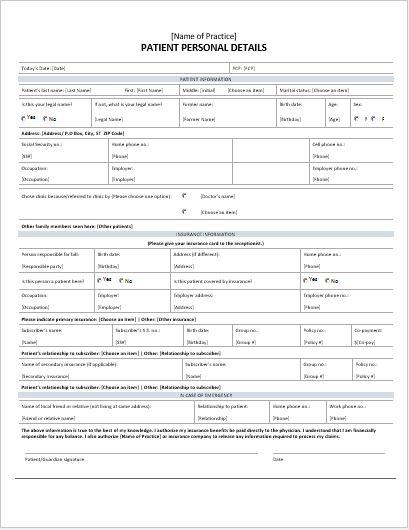 Patient Personal Details Form Template-2
File: Excel (.xls) 2003+ and iPad
Size 54 Kb   | Download
File: OpenOffice (.ods) Calc [Cal]
Size 12 Kb   | Download