Non-profit organizations generally work without making any profit and they are usually run on funding from different people. Many NGOs have to request funds because they want to start a specific project for a good cause. However, it is not easy to solicit people and convince them to fund a project because people have reservations as to whether they are funding genuine social work or not.
What is a funding proposal letter by an NGO?
It is a professional document that outlines the details regarding a project initiated by an NGO that is going to be a type of social work. Through this letter, a representative of the NGO tries to convince the reader to release funds.
This letter is a sort of communication between a non-profit organization and the prospective donor. When a non-profit organization needs funds, it looks for affluent people who can afford to donate money. Then, a proposal letter is written to impress them and persuade them so that they accept the proposal and show their willingness to fund the project.
How to write a funding proposal letter for an NGO?
You are required to use a very compelling tone to make sure that you succeed in your purpose. Below are the guidelines:
Introduce your organization:
Before you can convince the donor into donating money to your company, it is important for the donor and the NGO and its credibility. Therefore, give information including the background, previous social work, type of social work it does, and success stories. You can also share the details of the license or registration that can prove that your NGO is a credible organization and that the donor can trust it.
Give details about the project:
Usually, NGOs write the funding proposal when they come to know that they do not have sufficient funds to carry on with a social work project. In this case, they target a donor but shed light on the project they are soliciting the donor for.
So, explain your motivation behind starting that project, how many people are going to be benefited from it, what type of funding you have received in the past for the same or similar project, how far you want to take the project, and whatnot.
Explain your intentions:
It is important to explain what you thought you would do to work for less privileged people. Explaining intentions is not necessary. However, when you are trying to convince the reader to be convinced that you have clear intentions and you will not waste the money, explain what made you take this step and how you are indifferent to the benefits the project is going to reap once it has received the donation from the prospective donor.
Explain how funds will be used:
In the majority of cases, the potential donor wants to know what you are going to do with the money you will receive from him. When it comes to spending money for a good cause, there are multiple ways in which the donated money can be used. You should talk about the specific way you have chosen to benefit a particular community of society through donated money.
If you are going to implement a strategy, discuss the entire implementation and then, highlight those areas where you need to spend money to be more comprehensive, you can also tell which part of the project needs how much funding.
Details of the funds:
The donor always wants to know your expectations of him. You should mention in the letter how much funding you need to fulfill the purpose. Tell the reader that you do not restrict them to pay a specific amount and they can donate as much as they can.
Also, address your expectations from the donor such as a quick response, etc.
Give your contact details:
Since you have told the donor that you expect a quick and positive response, now provide your contact details and ask the reader to contact you to get more details about the project that you have highlighted in the letter.
#1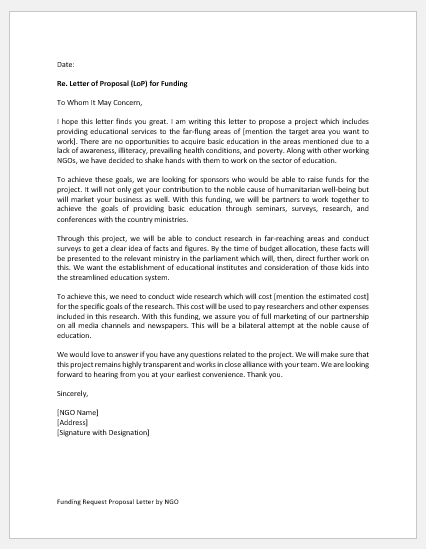 #2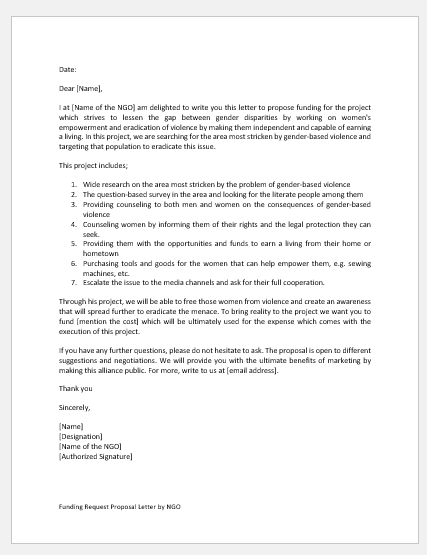 See also: